Finding the right chef's knife is quite a challenge. There are too many mediocre products that are available on the market – and because of the cost-effectiveness of cheaper products, a majority of buyers go for sub-standard knives.
In reality, there is nothing like an authentic Japanese knife to make your life easier. Not only it is equipped with all the essential features that are for professional-grade slicing, chopping, and dicing; it is a long-time investment.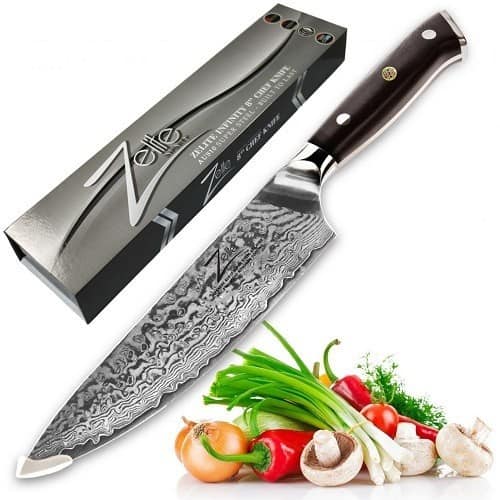 There is a reason why Japanese knives are favorite kitchen accessories. Japanese regard their food and kitchen gear as sacred. The same principle reflects in their products. Some of the best Japanese knives are known for their high-quality built and razor-like sharpness.
About The Product
All Japanese knives feature a razor-like edge for sharp filleting and cutting. If you require paper cuts to prepare restaurant-grade food, there is no other kitchen accessory than the Zelite Infinity 8" Chef Knife to guarantee utmost precision.
The Zelite Infinity 8" Chef knife offers an excellent blend of affordability and expert craftsmanship to deliver a good cooking experience. The blade has collected rave reviews from both home and professional chefs for its unique design that ensures a comfortable grip.
Features
check
check
check
check
check
check
check
check
Product Benefits
The sharp blade has high-quality carbon stainless steel along with VG-10 Super steel which is a premium quality Japanese steel. As the edge curves towards the tip, it maintains a smooth rocking motion for quicker performance.
Now you go creative with your recipes and techniques. The knife is built to retain its sharpness for a long time.
Thanks to an innovative liquid nitrogen tempering process, the edge is durable and non-stick. No food sticks to your knife. Your knife remains stain and corrosion free, thanks to its high-quality construction.
Another fabulous feature of the knife is its captivating and intricate Damascus pattern. If you are looking for a knife that is aesthetically pleasing, the Zelite Infinity Chef's Knife is a treat for your senses.
However, the best part about a Japanese knife such as this one is that you don't need to fear a complicated maintenance routine. The Zelite Infinity knife is dishwasher safe. But we recommend you hand-wash and towel-dry it to protect its sharpness.
Another significant part of the incredible knife is its solid handle. Being, rounded and designed for a comfortable grip, it adds more to the safety and durability you get out of this model.
The knife is a valuable asset to your kitchen if you host frequent dinners and events. The ergonomic design ensures that you don't tire your wrist. The Zelite Infinity Chef's Knife weighs just 8 oz.
The product is by Zelite which is a family run business. With a mission to deliver the best of kitchen equipment to its broad clientele, the brand designs top-notch accessories.
That is one of the safest Japanese kitchen knives. You are less likely to experience any injuries or cut, thanks to its design and weight.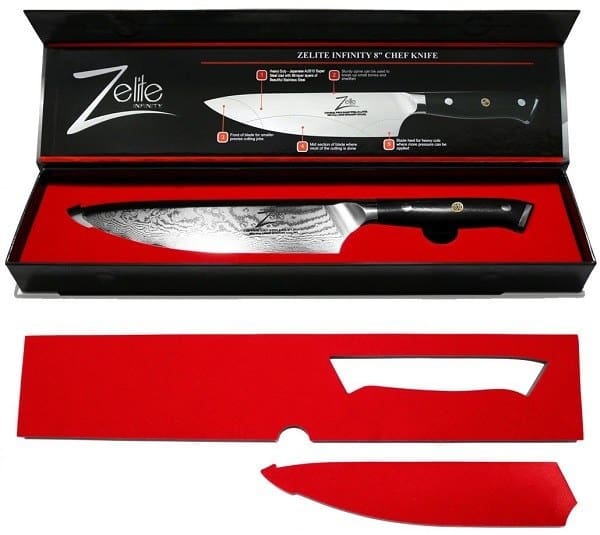 The knife strikes the perfect balance between affordability and functionality.
Thanks to the 67-layer Damascus, you get a beautiful looking kitchen accessory that glides effortlessly through meats, fruit, and vegetables.
That is a sleek and stunning knife that boasts an ergonomic design. Being an affordable option, it is one of the most popular kitchen accessories of our times. The blade has remarkably hard steel that doesn't lose its edge even after long-term use.
Pros
Cons
What Other Buyers Are Saying
Consumers who purchased the Zelite Infinity Chef's Knife are in love with its incredible 12-degree pro razor edge and weighs 8 oz. The mirror polished cutting angle gives ultimate safety and an unbeatable sharpness for effortless cutting.
Thatis a brilliantly crafted chef's knife that is popularly used all over the world in thousands of kitchen and professional kitchens. The Japanese blade has been famous for its ruthless sharpness and ninja cutting abilities.
Most buyers have given favorable reviews and highly recommend this product. It offers excellent durability and doesn't corrode. Make sure you hand-wash it and keep it try to make the most out of your purchase.
Buying Advice
The efficient Japanese blade gives you the best bang for the buck and enjoys enormous popularity among home and professional chefs. The kitchen knife is an ideal accessory for speeding up meal preparation.
It is one of the most popular kitchen knives that professionally used for slicing through vegetables, fruits, and meats.
If you are interested in buying this Japanese knife to prepare a feast for your loved ones; get this masterpiece today from Amazon.com for nearly $130.
Final Verdict
The Zelite Infinity 8″ knife offers everything you desire in a premium-quality Japanese knife. It features a beautiful design and a razor sharp blade to make all your chopping, slicing and cutting tasks leisurely.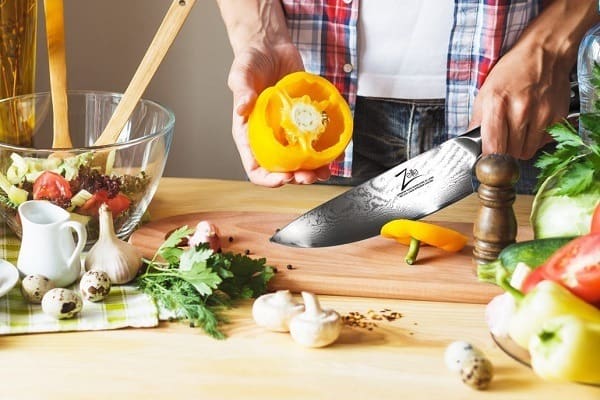 Impress your guests with the visually stunning and professional-grade Japanese kitchen knife. It delivers excellent performance and is a valuable addition to any contemporary kitchen.
The knife is famous for its minimal slicing, secure grip and premium quality blade made out of VG10 super steel along with 67-layer high carbon stainless steel. The intricate rose Damascus pattern adds more to its spellbinding beauty. It guarantees a durable performance since it is liquid nitrogen tempered.