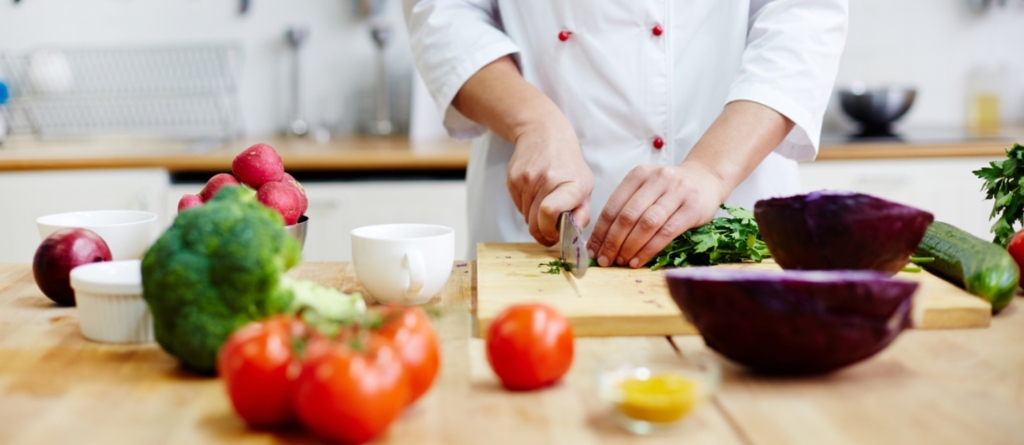 In a rush?
The 5 best Japanese cutting boards are:
In this article, I take a look at the best cutting boards for Japanese knives.
The purpose of a cutting board is not just to protect your counter-top, but also to protect your knife's blade. Japanese knives, in particular, have harder and thinner blades (i.e. more brittle). This makes having a good cutting board even more important.
If you're interested in protecting your knife, read on to learn more about:
Cutting board materials
Difference between various wood grains
Other features/factors to consider
Best cutting board recommendations
Let's get started!
(Click here to skip ahead to cutting board product recommendations)
The Best Cutting Board Materials For Japanese Knives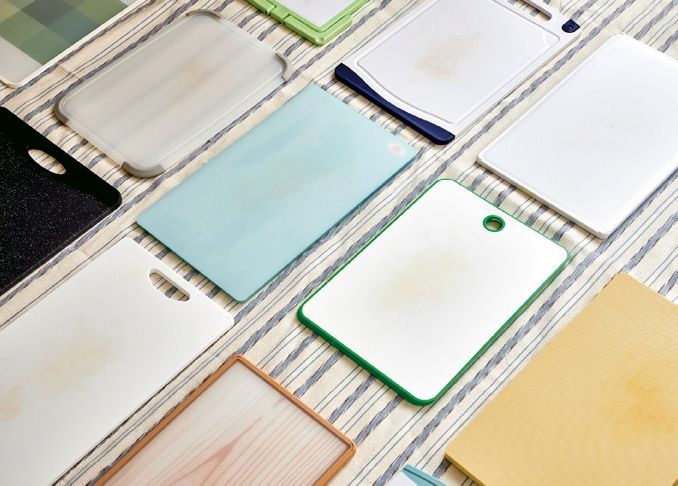 Material is the most important factor when choosing a cutting board for your Japanese knife. We want the following features:
A soft/gentle material that will not dull or chip the knife edge
Durability: Won't get worn down or scratched up too easily
Hygienic and easy to clean
Overall, the best cutting board materials and brands for Japanese knives are:
Hi-soft (polyvinyl acetate)
All rubber – Asahi rubber (elastic polymer), Sani-tuff
Hasegawa brand (polyethylene with wood core)
Hinoki Cypress wood
Various other woods
Let's take a brief look at each one:
Hi-soft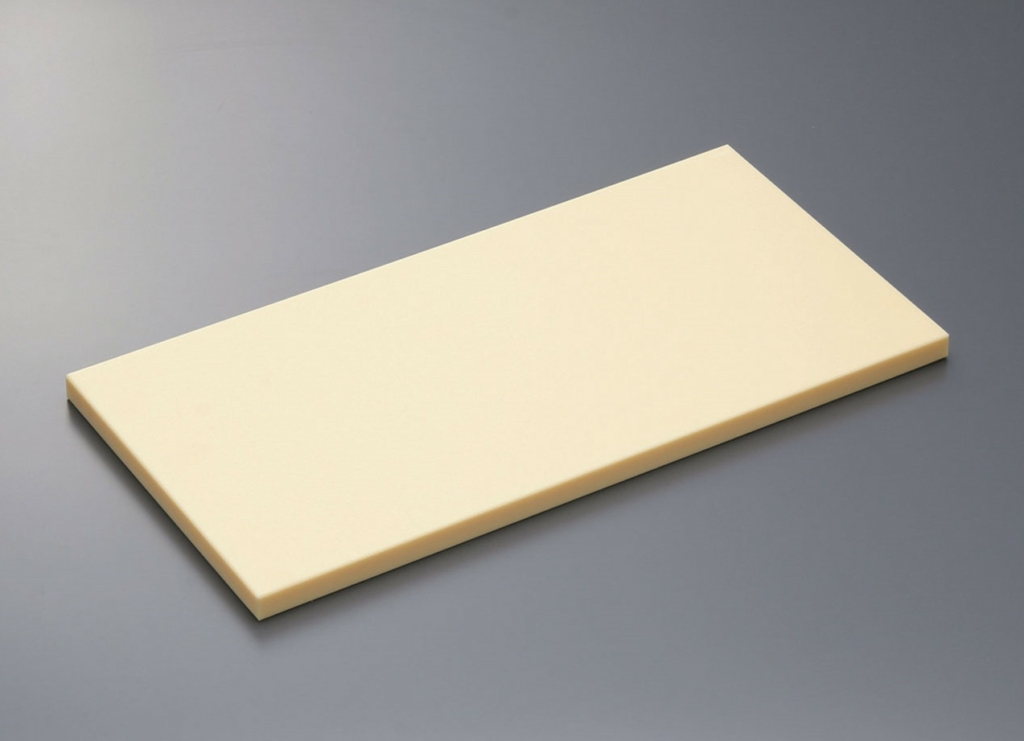 Hi-soft boards are made of a synthetic material called polyvinyl acetate. They are specifically designed for Japanese knives. The material is very soft with a lot of give to reduce impact on the knife. The softness also helps reduce stress on your hand and wrist when chopping. The textured surface is non-slip for better safety. Hi-soft boards are easy to clean, but can not be put in the dishwasher.
All-rubber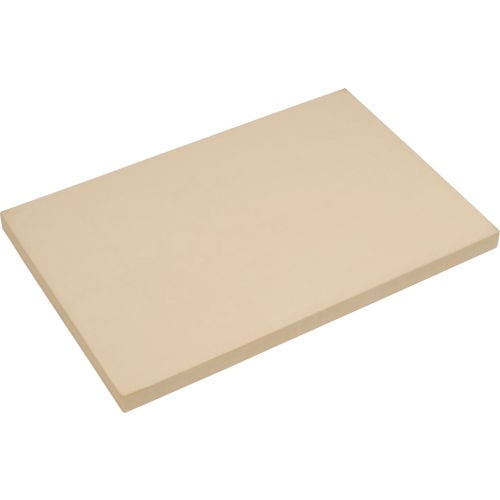 Rubber boards are typically harder than Hi-Soft boards. The rubber used is usually non-porous which means it will not absorb liquids or odours, and is easy to clean. All-rubber boards can not be put in the dishwasher. The high temperature will warp the material.
Two of the most popular all-rubber material types are Asahi rubber and Sani-Tuff:
Asahi rubber cutting boards are from Japan, and made with a proprietary elastic polymer. They are professional grade boards, and often found in sushi restaurants. Asahi rubber is a fair bit harder than Hi-Soft. They are still forgiving on your knife, and will also last a bit longer than softer boards.
Sani-Tuff boards are made of a high density, all-natural rubber compound. They are gentle on your knife's edge, and extremely durable. The boards are also extremely heavy, which can be good or bad depending on your preferences.
Hasegawa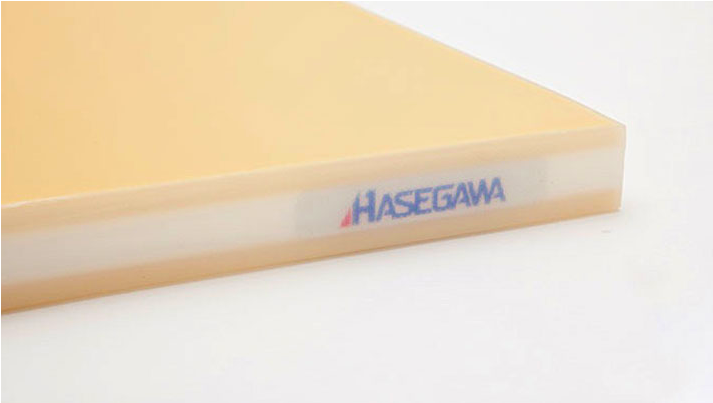 Hasegawa is a popular Japanese brand that designs cutting boards, as well as other kitchen tools. Their cutting boards are unique in that they feature a wooden core, with soft polyethylene plastic/rubber surface layer. Many professional sushi restaurants also employ Hasegawa boards.
The wood core makes the cutting board more rigid (will not bend/warp), yet lighter than other purely synthetic boards. The outer soft plastic surface helps preserve your knife's blade.
Hasegawa board are easy to clean, and most can even be put in the dishwasher.
Interesting note: Hasegawa was originally founded as a ski manufacturer. They used their ski-making knowledge and technology to develop their cutting boards. ⛷
Hinoki wood – Japanese Cypress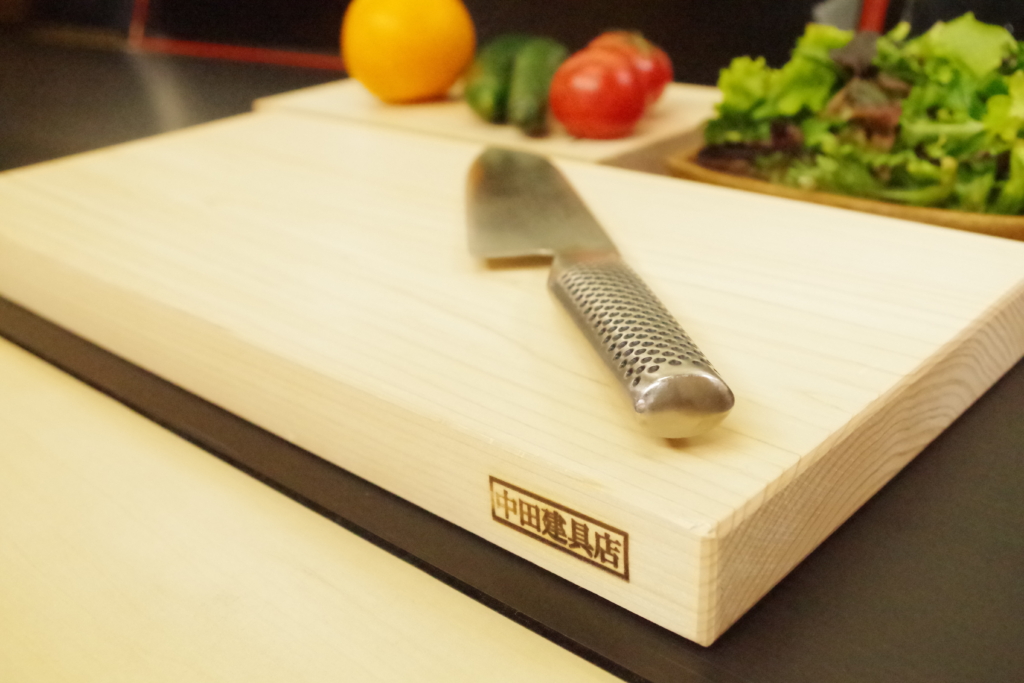 Hinoki is a type of cypress wood found throughout Japan. It is the most recommended wood for making Japanese cutting boards thanks to its natural properties:
Resistant to rot
Soft, but strong
Naturally anti-bacterial
Very lightweight
Smells great
Hinoki wood is also frequently used as a building material in Japan. The downside of Hinoki wood boards is that they can not be washed in a dishwasher, and require more care/maintenance than synthetics.
Other wood types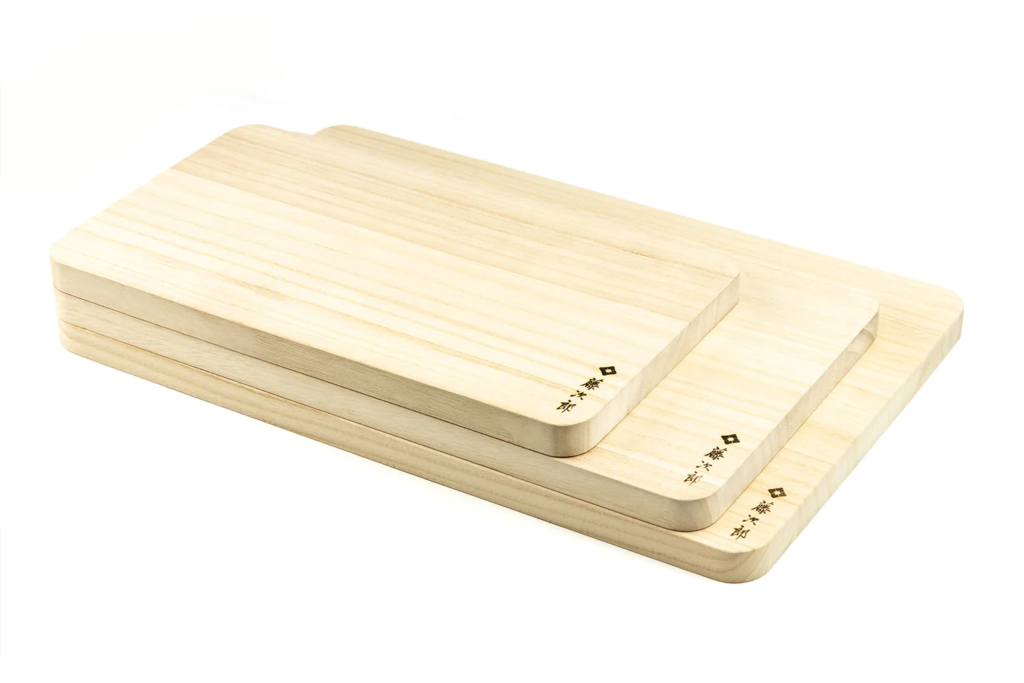 Some other common woods used in Japan for cutting boards are ginkgo, willow, hiba, paulownia, and magnolia.
Depending on your country, you may have other choices available.
For Japanese knives, you basically want to choose a hardwood that is on the softer end of hardness scale. In North America, soft maple is probably the most readily available. Another interesting choice would be Larch wood.
Understanding wood grain
If you decide to go for a wood cutting board, another thing to consider is the grain of the wood.
Cross-grain vs Straight-grain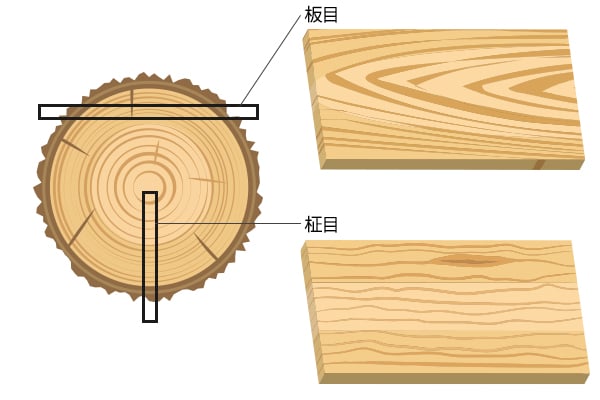 In Japan, wooden cutting boards are sometimes compared by whether they are cross-grain (板目)or straight-grain(正目).
Cross-grain boards are cut parallellish to the log rings. Straight grain boards are cut perpendicular to the wood rings. (see image above)
Straight grain is generally considered to be superior, because it will shrink/deform less. Cross grain boards are a bit softer on your knife, though they are more likely to warp or crack if not maintained correctly. There's always a tradeoff!
Most straight-grain cutting boards are actually made of multiple pieces laminated together. It is rare to find a straight-grain board made from a single piece of wood, due to size of that would be needed. If you do find one, it is probably very expensive.
Properly made laminated boards are actually less likely to warp or deform, and are easier to maintain.
End-grain vs Edge-grain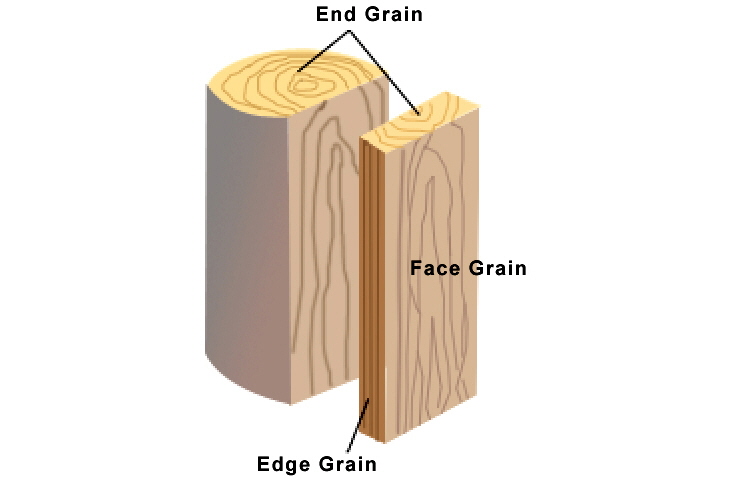 End grain is the short edge of a typical wood plank. Edge grain is the long edge. See image above for better understanding.
There is a debate as to whether end-grain boards are better than edge-grain boards. The main argument for end-grain is that they are gentler on your knives. This has not been scientifically proven though, and I think it depends more on the type of wood used.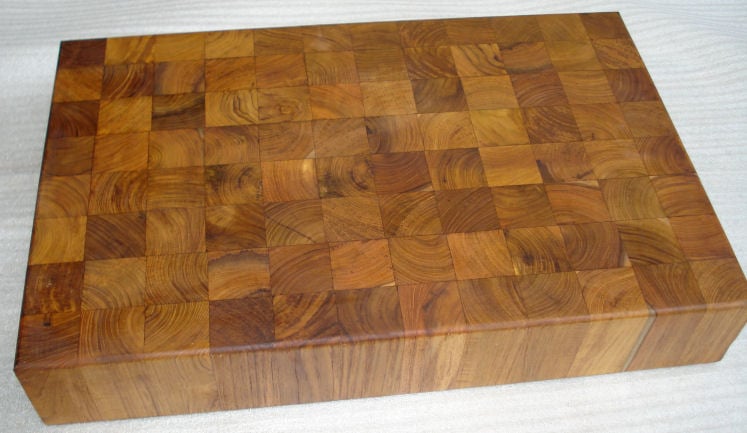 The main problem with end grain is that the board is basically made out of a hundred small pieces of wood glued together. Sometimes different types of wood are even used together. End-grain absorbs more moisture, so if the board is not constructed well, it will quickly deform or crack.
End-grain cutting boards definitely look cool though, and may be better for decorative purposes.
Materials to avoid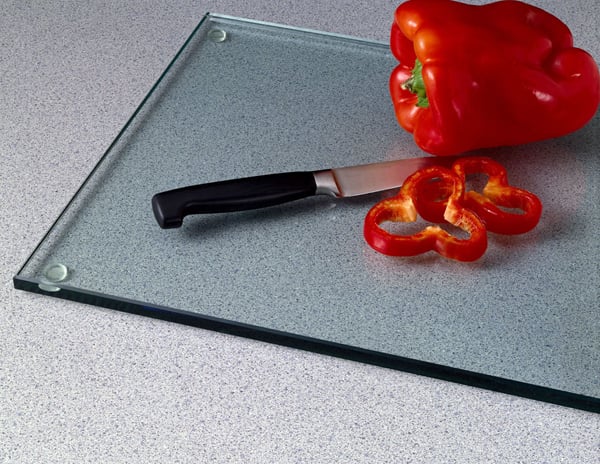 You should avoid any cutting boards made of excessively hard materials. Your knife should be able to dig into the cutting board a little bit. If not, then the material is probably too hard and will dull your blade quicker.
Here is a list of materials you should avoid for Japanese knives:
Bamboo
Granite
Stainless steel
Hard plastic
Glass
Marble
Very hard wood
Other factors to consider
Besides cutting board material, here are a few factors to consider before buying:
Size, weight, thickness & shape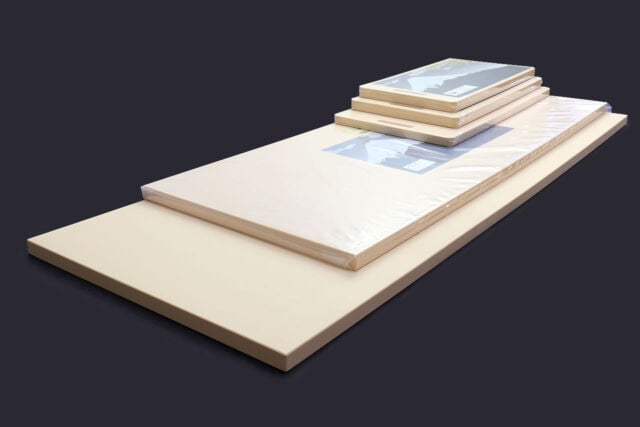 How big is your kitchen counter? Where will you store your cutting board?
You want to choose an appropriately sized cutting board for your workspace.
Weight depends on the material and thickness of the board. I prefer a lightweight board, although some people like a heavy board.
If you are buying a wood board, it is better to get a thicker one, as it is less likely to warp.
Most cutting boards are rectangular, but you can also buy square, or round boards if that's your thing.
Appearance & color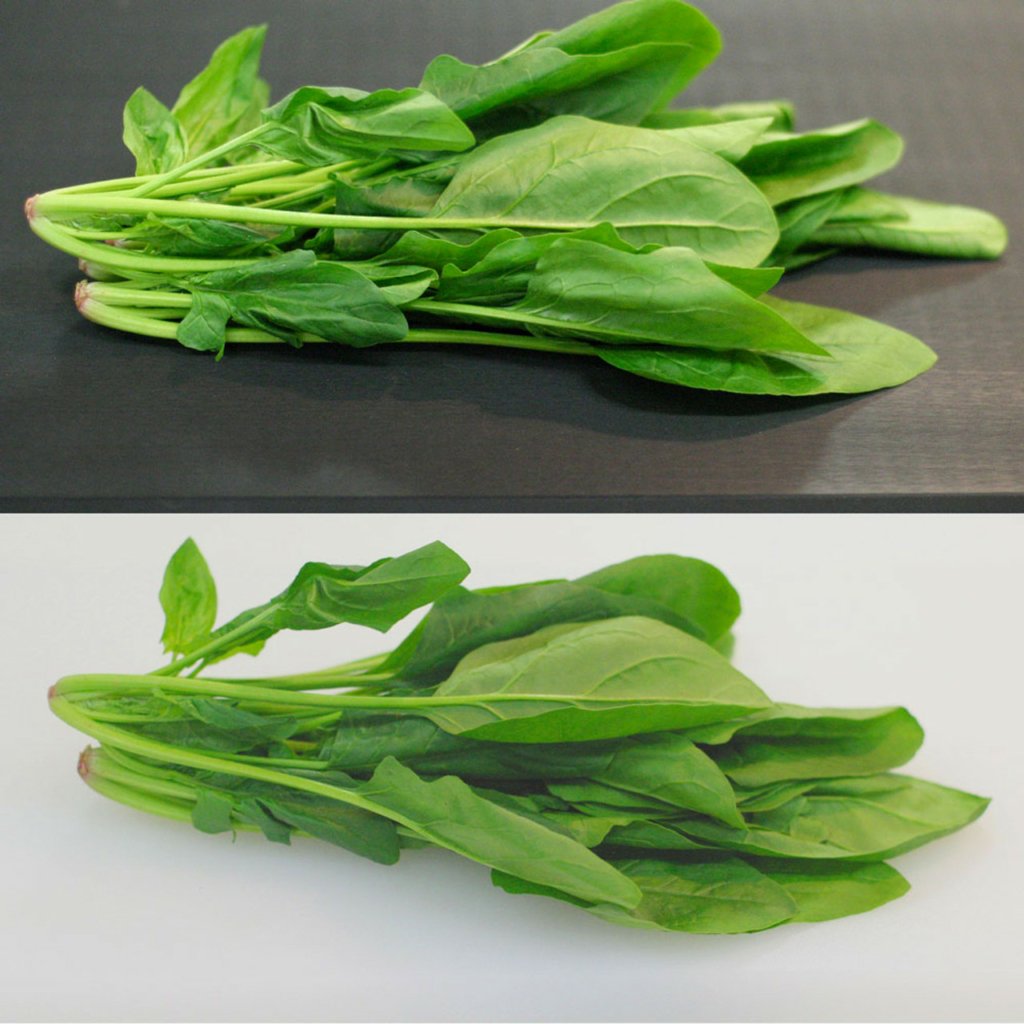 In my opinion, wood cutting boards look about 100 times nicer than plastic/rubber boards. The downside is that they are harder to clean, and maintain. If not cared for properly, wood boards are more likely to break down.
Many synthetic boards come in different colors. Professional kitchens/chefs often use different color boards for different types of ingredients. For example, red is for meat, green is for vegetables, blue is for fish.
Black "high constrast" cutting boards provide better contrast against most ingredients. This makes it easier to see your ingredients when prepping.
Price
What's your budget? The price of a cutting board is related to all of the above factors (material, size, appearance).
Every cutting board will eventually wear down and need to be replaced. Take that into consideration when purchasing.
If you are on a tight budget, try to find a generic cutting board made with cheap soft plastic (polyethylene).
The 5 best cutting boards for Japanese knives
Without further ado, here are the five best Japanese cutting boards available today (scroll down for detailed product descriptions):
Quick Comparison Table
| Name | Material | Sizes | Price range | Purchase |
| --- | --- | --- | --- | --- |
| Hasegawa Soft Cutting board (FRK series) | Soft polyethylene surface with wood core | S, M, L | $63 - $84 | MTC Kitchen |
| Yoshihiro Hi-Soft Professional Grade Cutting Board | Hi-soft (polyvinyl acetate) | S, M, L, XL, XXL, XXXL | $100 - $500 | Amazon |
| Asahi Cookin' Cut Rubber Cutting Board | Asahi rubber (elastic polymer) | M, L, XL | $50 - $70 | Amazon |
| Yoshihiro Hinoki Cutting Board | Hinoki wood (straight-grain laminate) | M, L, XL, XXL | $80 - $150 | Amazon |
| Tojiro Paulownia Cutting Board | Paulownia wood (straight-grain laminate) | XS, S, M | $35 - $55 | Knifewear |
Hasegawa Soft Cutting board (FRK series)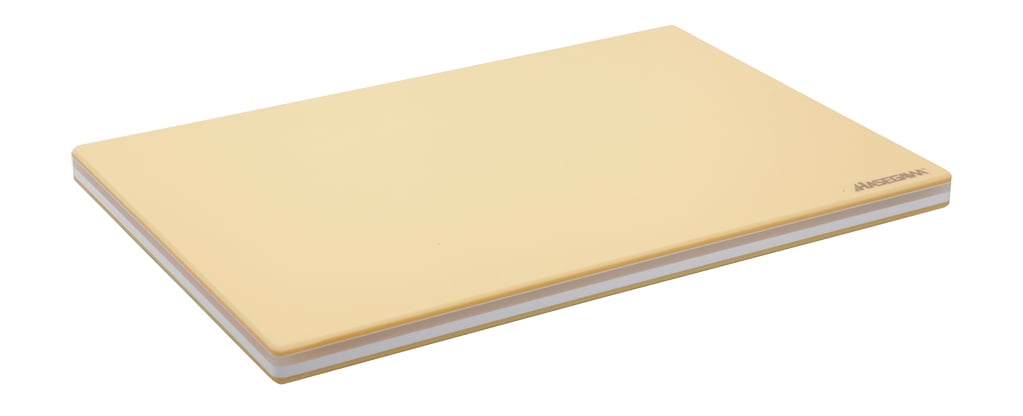 In my opinion, Hasegawa makes the best overall Japanese cutting boards. They are lightweight (30% lighter than solid plastic boards), yet still rigid and sturdy thanks to the wood core.
The synthetic surface is very gentle on your blade, and will help your knives stay sharp longer. The surface is also non-slip which helps making prep work easier and safer.
The greatest benefit for lazy people like myself is that this board can be washed in the dishwasher! The wood core is completely enclosed by plastic, so it will not be affected.
Hasegawa has many different product lines. The "FRK" line is the home-use version, and recommended for most people. "FSR" is the professional series, and comes in bigger/thicker sizes. The "FSB" is a harder version meant for rougher chopping and prep work.
If you are just a typical home-cook, then the "FRK" is all you need. It's also cheaper than the others.
They come in a wide variety of sizes, so make sure you choose one suitable for your kitchen.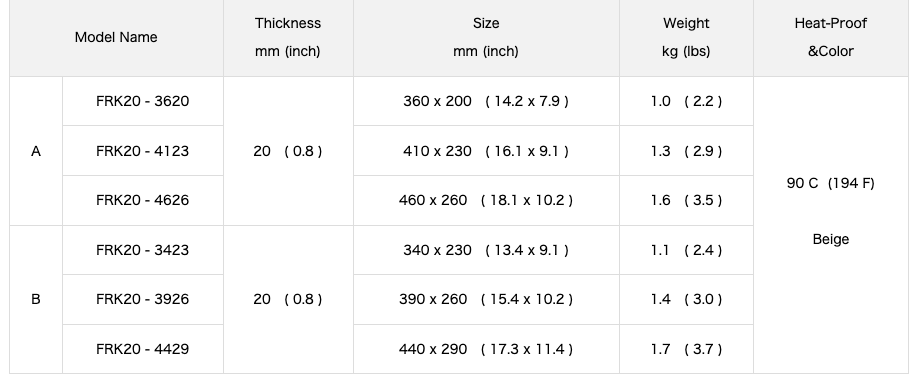 View size chart on their official website
Prices are currently very reasonable, and range from around $63 – $84.
Where to buy:
MTC Kitchen
Burrfection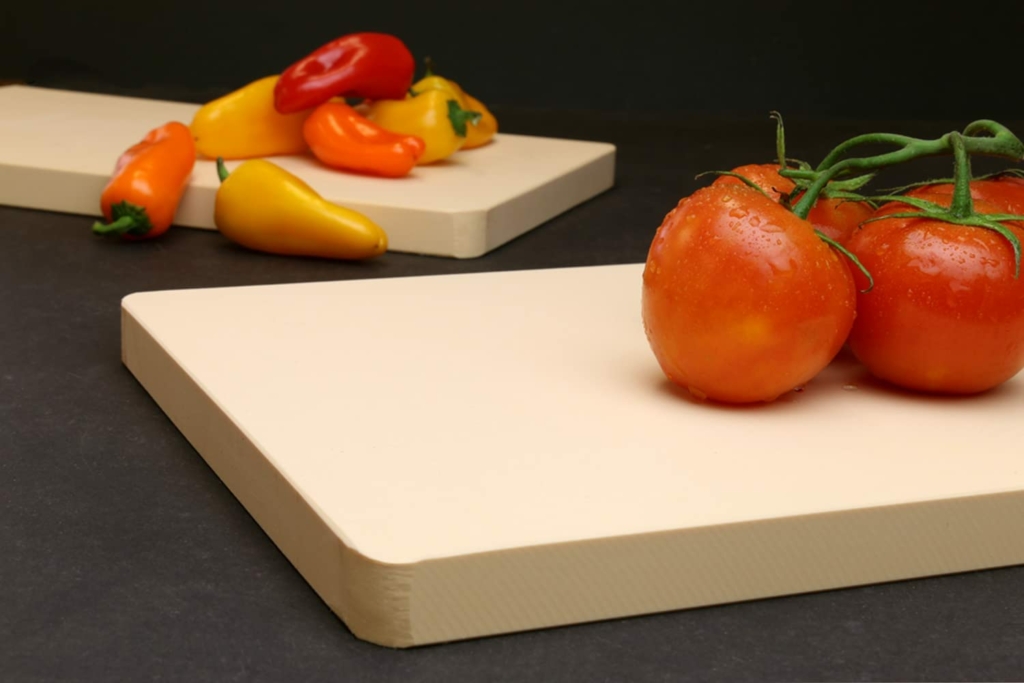 This is a typical Hi-soft cutting board that is used in Japan by professional chefs. It is specifically designed for Japanese sushi knives to help prevent the blade edges from dulling prematurely.
It is very soft, so not recommended for heavy chopping tasks like cleavers, etc.
It is anti-bacterial and easy to clean, but can NOT be washed in the dishwasher.
This particular Yoshihiro branded board is available in huge number of sizes:
Small: 15.8″ x 8.8″x 0.8″(40cm x 22cm x 2cm)
Medium: 17.3″ x 9.8″x 0.8″(44cm x 25cm x 2cm)
Large: 19.6″ x 10.6″x 0.8″(50cm x 27cm x 2cm)
X-Large: 23.6″ x 11.8″x 0.8″(60cm x 30cm x 2cm)
XX-Large: 39.4″ x 15.7″x 0.8″(100cm x 40cm x 2cm)
XXX-Large: 47.2″ x 17.8″x 0.8″(120cm x 45cm x 2cm)
Make sure to pick a size appropriate for your kitchen.
Prices range from around $99 (small) – $500 (XXXL). To check current prices, click the button below:
Other Hi-soft cutting boards:
Asahi rubber boards were originally only used in commercial/professional kitchens. They are frequently found in sushi restaurants throughout Japan. This Cookin' Cut version was made/marketed specifically for home use.
The material is harder than the above Hi-Soft board, but still gentle enough to preserve your knife's sharpness. Here are the main features of Asahi cutting board:
Bacteria / mold-resistant: Non-porous material makes it very easy to clean/dry and prevents growth of bacteria and mold.
Natural texture that is easy on your knife's edge
Excellent durability: scratch resistant, wear-resistant.
Easy to use: non-slip surface and moderate weight means the board or ingredients won't move around
The home version of the Asahi rubber board is available in a few different sizes:
Medium –

15.0 x 8.3 x 0.5 inches (38.1 x 21 x 1.27 cm)

Large –

15.75 x 9.06 x 0.5 inches (40 x 23 x 1.3 cm)

XL – 16.54 x 9.84 x 0.59 inches (42 x 25 x 1.5 cm)

Prices currently range from around $50 – $70. It is a very reasonable price for a high quality cutting board. Click the link below to check prices:
Other all-rubber boards: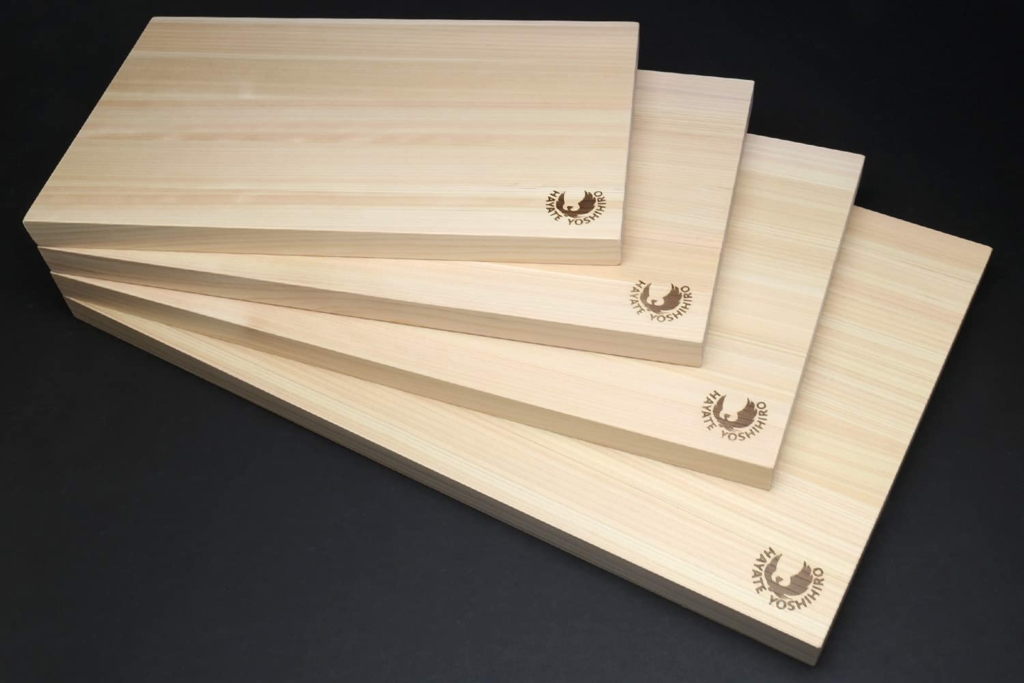 This is a high quality Hinoki wood cutting board sold by Yoshihiro brand. It is made of multiple straight-grained hinoki wood planks joined together.
Straight grain boards are preferred for strength and stability (vs. cross-grained). Of course, it also has all the benefits that hinoki wood is known for:
anti bacterial
medium-soft texture to protect your knife's edge
natural oils protect against rotting and warping
smells nice 🙂
Do not wash this cutting board in the dishwasher. It is also not recommended to use cutting board oils or waxes on hinoki cutting boards.
This particular model is available in four different sizes:
Medium: 13.8″ x 8.7″x 0.78″ (35cm x 22cm x 2cm);
Large: 15.7″ x 9.4″x 0.78″ (40cm x 24cm x 2cm);
X-Large: 17.7″ x 10.24″ x 0.78″ (45cm x 26cm x 2cm);
XX-Large: 19.6″ x 11.8″ x 0.78″ (50cm x 30cm x 2cm)
It is not too expensive with the medium size around $80 (USD). I wish it was a little bit thicker, but can't complain for the price.
Overall, this a great Hinoki cutting board. It looks great and would be a nice addition to any kitchen.
Other hinoki wood cutting boards:
Hinoki Board from Hocho-knife
Hinoki Board from MTC Kitchen
Tojiro Paulownia Cutting Board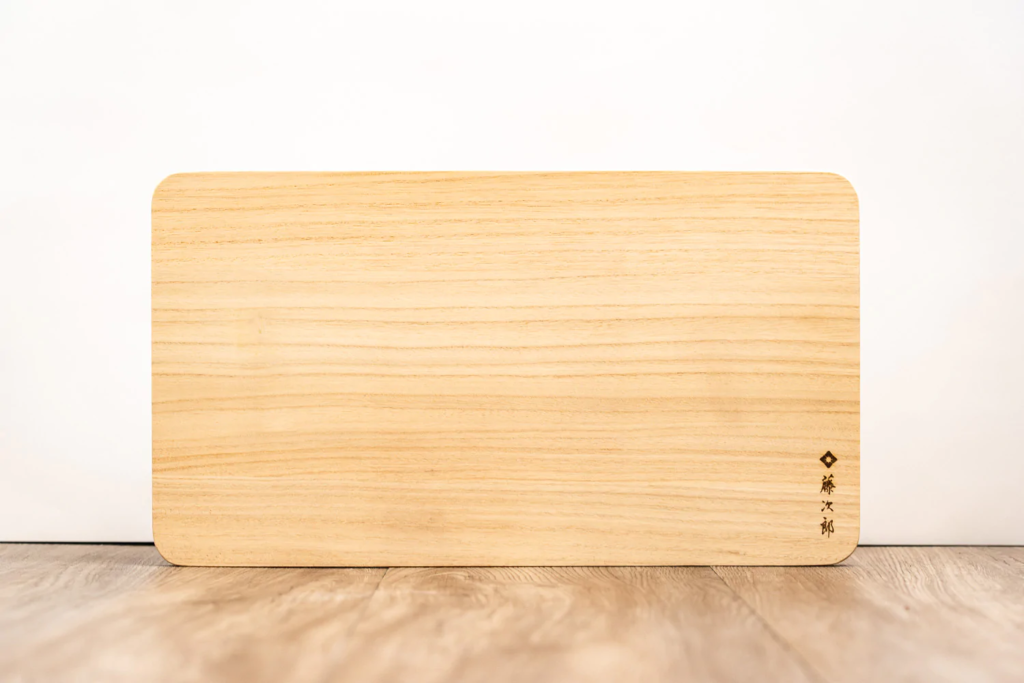 This paulownia wood cutting board from Tojiro is a great, budget friendly alternative to typical hinoki wood boards.
Tojiro is a Japanese knife brand best known for making high quality budget friendly knives like the Tojiro DP.
Paulownia wood has great features for making cutting boards:
Lightweight
Good flexibility and elasticity; gentle on knife's edge
Warp resistance
Does not absorb moisture; dries quickly (easy to clean)
If you want a budget friendly, lightweight wood cutting board for your Japanese knife, then this Tojiro Paulownia may be the one for you. It is available in a few difference sizes on Knifewear:
Mini – 13.7 x 50 x 0.78 inches (350×200×20mm)
Small – 16.5 x 9.25 x 0.78 inches (420×235×20mm)
Medium – 17.7 x 11.6 x 0.78 inches (450×295×20mm)
Prices range from about $40 — $60 (USD), depending on size.
Other alternative wood cutting boards:
Summary
I hope this post was helpful in helping you choose the best cutting board for your Japanese knife.
For myself, I think Hasegawa boards offer the best balance between performance and convenience (i.e. dishwasher safe). Hi-soft boards are very nice, but a bit on the expensive side. Asahi rubber boards probably offer the best value for synthetic choices.
If you want a wood cutting board, Hinoki wood is the most recommended choice. If Hinoki boards are a bit too pricey, then there are some decent alternatives like the above recommended Tojiro Paulownia cutting board.
Wood boards are definitely nicer looking, but can be easily damaged if you're not careful. Is it worth the hassle of care and maintenance? That's up to you.
Now it's your turn:
What cutting board do you currently have? Which of these cutting boards would you buy?
Let me know in the comments below!
What to read next
Want to learn more knife care tips? Read the Japanese knife care and maintenance guide.
Knife already dull from a lousy cutting board? Check out the Japanese knife sharpening guide
Need a new knife? Check out my knife buying guide. Or the 7 best gyutos under $100.
Sources:
https://www.kai-group.com/products/special/hocho/use/manaita/
https://tojiro.net/reading/8767/
https://umezawa-u.store/