Japanese kitchen knives have become a favorite among both amateur and professional chefs worldwide.  Their super sharp, thin, and lightweight blades make preparing food easier and more enjoyable.  But, what is the best Japanese kitchen knife?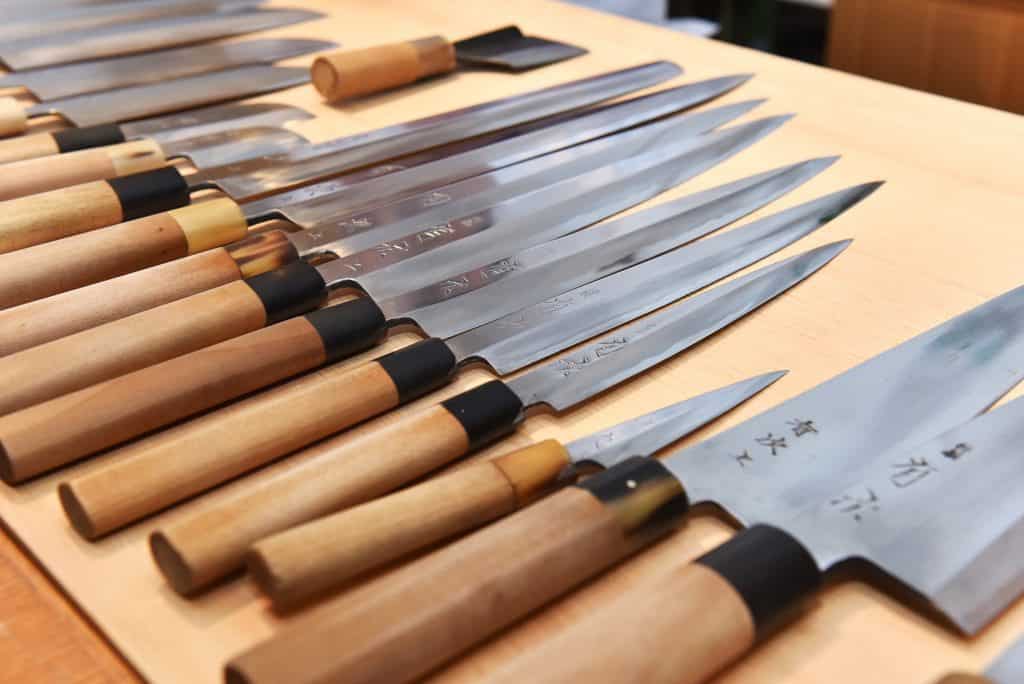 Of course, this is a very silly question to ask.  There is not ONE best knife out there, especially when referring to Japanese knives.
The best knife for you depends on a variety of factors:  your skill level, style of knife you prefer (i.e. traditional vs. Western), knife type needed, your budget, and many other personal preferences.
The choices can be a bit overwhelming.
In this buying guide, I will highlight the essential factors you should consider before buying your own Japanese kitchen knives. I will then give some recommendations of knives you can consider purchasing.
Let's get started!
To skip ahead to knife recommendations, click here!
Best Japanese Knives Buying Guide
First, let's take a look at the things you need to consider when buying a Japanese kitchen knife:
Steel type & Price
Blade style (i.e. Single vs Double bevel)
Knife type
Handle type
If you want to skip ahead to some knife recommendations, click here.
Factors to consider
Price / Steel type
Japanese knives can come in a huge range of prices…from around $50 to over $1000!  Depending on your skill level, you want to spend accordingly.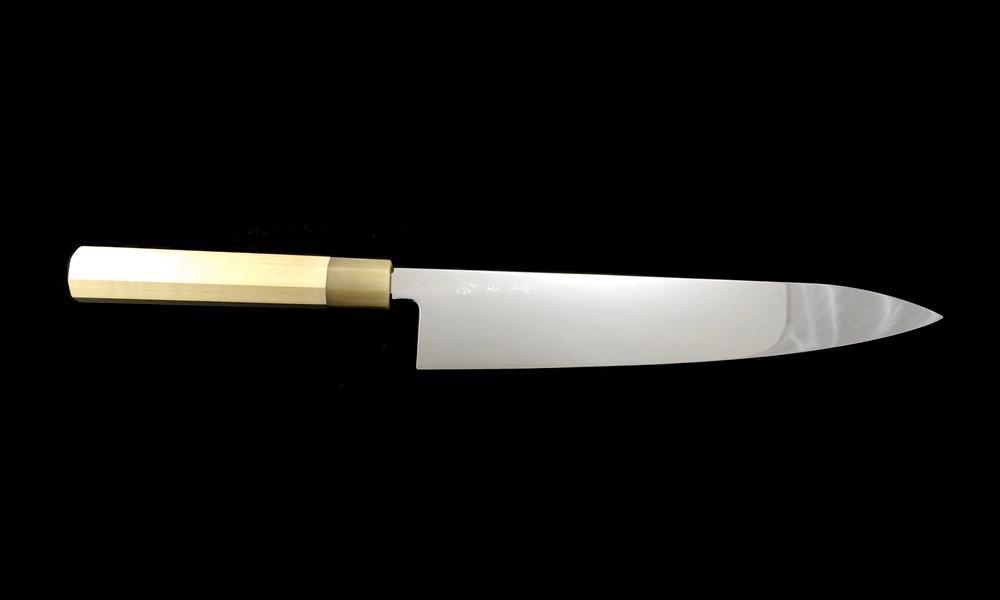 More expensive knives are generally made with super high carbon steel (i.e. blue steel or white steel) and are possibly honyaki forged.  High carbon steel knives are harder, so they can retain their sharp edge longer, but are also prone to chipping if used incorrectly or not maintained properly.  Proper maintenance and regular sharpening are required for higher end knives.  For this reason, these expensive high-carbon steel knives are recommended only for professionals.
Cheaper, entry level Japanese knives will probably use some sort of stainless steel alloy which is more durable, easier to maintain and resistant to rust.  The downside is that cheaper knives will not hold their sharpness as long as higher end knives if used at the same frequency.  Most at-home chefs need not worry about this as they will not be using their knife nearly as much as professionals.
If you are just learning to cook, it is not necessary to buy a super expensive knife.  You still want to have a quality knife, but there is no need to go overboard.  Think about it like buying a car.  If you are still learning to drive, then there is no point in purchasing a Ferrari!  A decent, serviceable, cheap Japanese knife will probably cost around $100.
Want to learn more about knife steel? Check out this guide on the best Japanese knife steel types
Blade Style

Japanese knives come in either double bevel (Western style) or single bevel blades (traditional Japanese style).  Single bevel knives are generally meant for professional chefs, as they are can make very detailed cuts, or have very specific use cases (e.g. sushi knives / yanagi).  The feel of using a single-bevel knife is much different, and takes a lot of practice to get used to.   If you are not a professional, I would recommend a double bevel blade to start as it is easier to use.
Type of Knife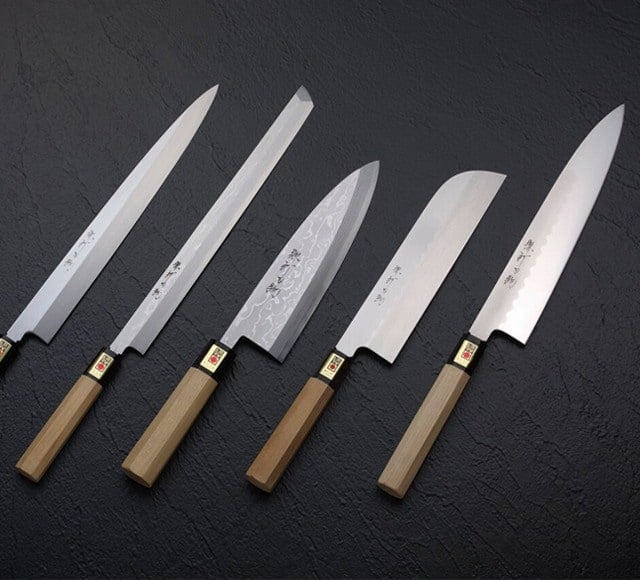 For each blade style (i.e. Western or Traditional), there are numerous knife types.  Many of these knife types have specific usages (vegetable, fish, carving, butchering, etc.), but there are two Japanese knives that are meant for general usage — Gyuto (i.e.  Japanese chef's knife), and Santoku.   Both of these knives use Western style blades (i.e. double bevel), and are known as all-purpose knives, as they can be used for vegetables, meat or fish.
I recommend beginners to start off with either a gyuto or santoku, then progress from there.  Gyuto knives typically comes in much longer blade sizes (8 to 10 inches / 20 to 25cm) than the santoku (6 to 7 inches / 15 to 18cm), so if you are generally working in smaller spaces, then you should consider a santoku.
What other knife types are there?  Check out the Guide to Japanese knife types here
Handle Type
One last thing to consider is the handle type.  Japanese knives can come with a Western style handle or traditional Japanese handle.  The Western handle is heavier, grip form shaped and secured through the tang of the blade with rivets.  They feel sturdier, and are more suitable for brute force cutting tasks.  Traditional Japanese handles are cylindrical, lighter, and always made of wood.  Traditional Japanese style handles may feel awkward to those who have never used them before, but can provide a more delicate touch and control once accustomed to the feel.  In the end, the choice of handle type comes down to your own personal preference.
Japanese Kitchen Knife Recommendations
Below is a summary chart of some gyuto and santoku knife recommendations.  This is not an exhaustive list by any means, but should help you get started.   I will perhaps add more different knife types in the future.
Again, this list is focused on entry-level, budget friendly knives.  Read on for a more detailed description of each knife.
Best Japanese Chef's Knife (i.e.  Gyuto)
The gyuto (牛刀 in Japanese kanji) is the Japanese version of a traditional chef's knife.  Compared to the classic French chef's knife, the Japanese blade usually has a less curved profile, is lighter, thinner, and sharper.
The gyuto is a must have for any professional kitchen. It is the chef's most used, and most versatile knife.  A typical gyuto blade size can from about 200mm to 250mm (approx. 8 inches to 10 inches), although it can be found much longer.  A decent gyuto will probably cost you around $100 USD.
Best Japanese knife for the money:  Tojiro DP Gyuto
One of the best budget-friendly Japanese chef's knife on the market is the Tojiro DP Gyuto.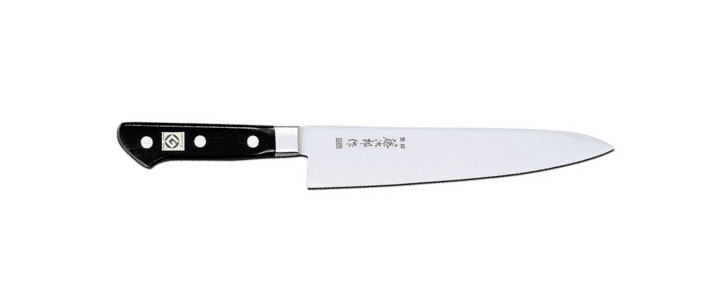 Tojiro is a well known brand for producing affordable, yet high quality, authentic Japanese kitchen knives.  The entry level pricing allows Tojiro knives to often act as a gateway for chefs into the wonderful world of high end Japanese knives.
This particular gyuto features a wooden Western-style handle, and a blade that is formed by a triple layer of stainless steel.  The core of the knife uses a harder VG-10 stainless steel to help the knife retain its sharpness better over time.  The outer layer uses a softer stainless steel which allows for easier sharpening and maintenance when necessary.   Overall, the knife is rated as 60 HRC on the Rockwood hardness scale.
The Tojiro DP Gyuto comes super sharp right out of the box, so be careful!  It will slice through those soft tomatoes like a stick of butter!  If you have never used a good Japanese knife before, prepare to be amazed as you slice and dice through your vegetables and meat with ease.
The Tojiro DP is easily one of the best Japanese chef knives for the money. If you are ready to finally try your first Japanese chef's knife, and want the best bang for your buck, then the Tojiro DP Gyuto is the perfect place to start.
It is available in a wide range of blade sizes, from 180mm (7″) to 300mm (11.8″).    Shorter blade sizes are probably more suitable for home use, with the 210mm (8.27″) being the most popular.  It currently is on sale at Hocho Knife for just $85.  Click the link below to check the current price.
Pros
Very affordable.  Best gyuto for the money.
Super sharp out of the box
Easy to maintain
Cons
A bit heavier than comparable Japanese knives
Other places to purchase: Hocho Knife, Chef Knives to Go
Shun is another often mentioned brand for high-quality, entry-level Japanese kitchen knives.  Their knives tend to be on the upper end of what a beginner would want to spend though, so it is often wise to wait for a sale or discount when buying Shun.

The design of Shun Classic Chef's Knife is sort of a combination between German and Japanese knives.  The blade profile is more curved than your typical Japanese gyuto.  It is more similar to a typical Western made chef's knife, but with a much thinner, sharper blade.  The curved blade makes it more suitable to use for rock chopping.
The handle is a very traditional wooden Japanese style handle (D-shaped).  Since the handle is D-shaped, it is only meant for right-handed users.  You may be able to order a customized left-handed version direct from Shun if needed.
The blade is made with a hard VG-10 stainless steel core, and cladded with 32 layers of softer Damascus patterned stainless steel.   The combination of hard and soft steel allows the knife to maintain its sharpness, while also making it easier to maintain and use.  The overall Rockwell Hardness rating is 60-61.
Overall, the Shun Classic Chef's Knife is a great gyuto, and may appeal to those that want a blend between Western and Japanese style knives.  The only downside is that it is pricier than most other entry-level options.  It is currently around $170.  The aforementioned Tojiro DP is half the price at just $85.
Pros
Great looking knife with traditional Japanese handle and wood-pattern blade
Curved blade profile may be preferred by chefs who like to rock chop
Super sharp out of the box
Cons
Overpriced – wait for discount or sale price
Another popular entry level gyuto is the Yoshihiro VG10 Gyuto Chef's Knife.  This stylish, hand crafted knife is very similar in construction to the Tojiro DP Gyuto.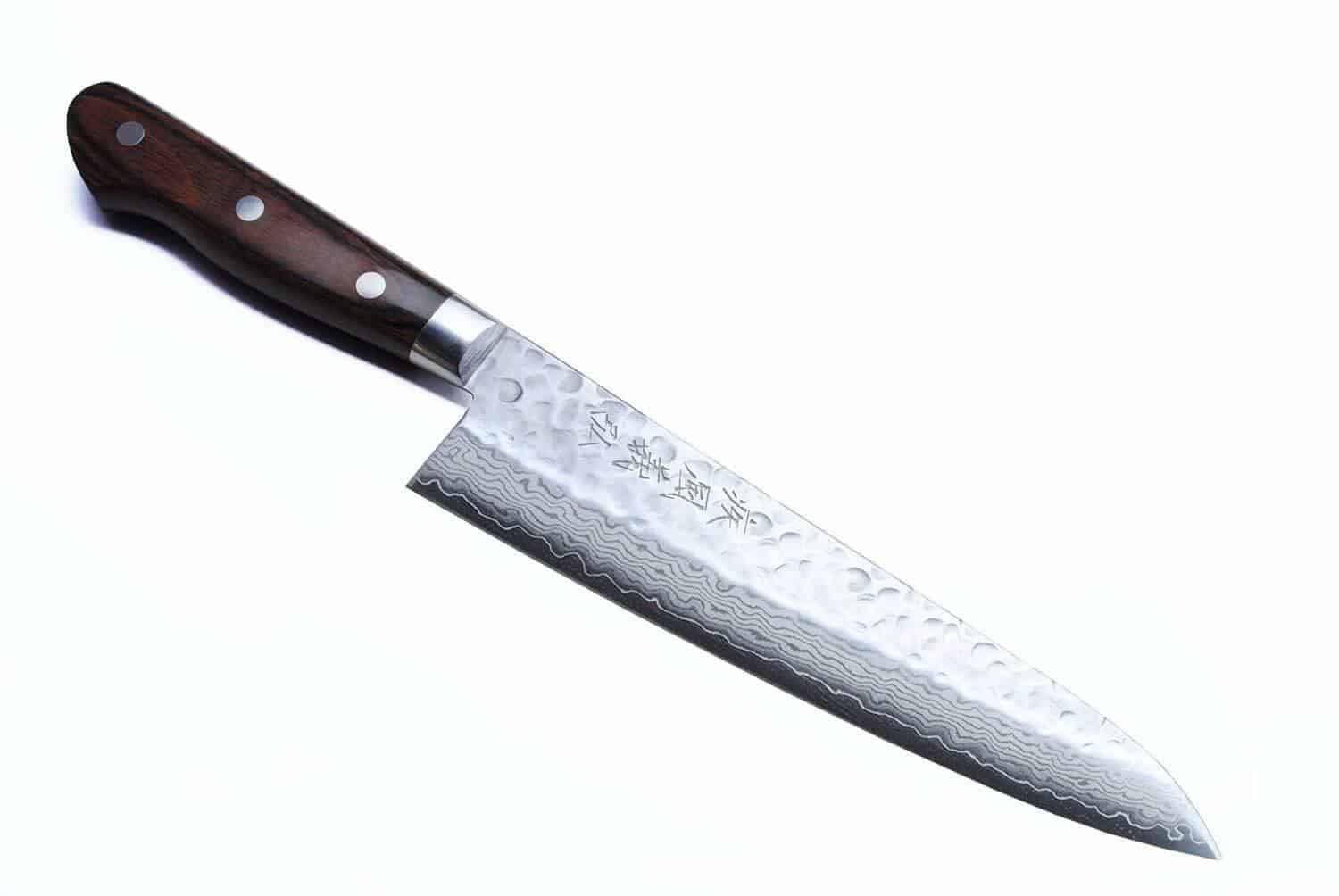 The knife features a triple layer construction with a hard VG10 stainless steel core so that the knife can retain its sharpness better over time.  The outer layer is made witth softer steel to allow for easier maintenance and sharpening when needed.   Overall the knife has a hardness rating of HRC 60 (same as the Tojiro DP).
One thing that may set the Yoshihiro apart is its unique appearance.  The outer cladding is made with hammered Damascus steel, giving it a unique wavy pattern.   Some users like this style, while others prefer simple looking steel. It also has a great looking, Western style handle made from premium mahogany.
Overall, the Yoshihiro VG10 gyuto is another great entry level chef's knife.  It comes super sharp out of the box, and is highly rated by buyers.  The only downside is that it is a bit expensive in comparison to the Tojiro DP — the 8-inch (21cm) version is $160, while the 9.5 inch (24cm) is $190.
Pros
Razor sharp edge out of the box
Handcrafted with unique Damascus steel pattern
Perfectly weighted, and easy to handle
Cons
More expensive than the Tojiro DP
Best Santoku Knives
The santoku knife (三徳包丁) is a smaller all-around Japanese kitchen knife.  It is typically much smaller than a gyuto, with the blade ranging in size from about 150mm (6 inches) to 180mm (7 inches).   It often features a flatter blade profile than the gyuto, and a less pointed tip.
The name of the knife literally means "three specialities / virtues", and is referring to knife's ability to cut meat, fish, or vegetables.
The convenient size, and versatility of the santoku makes it the most common knife found in Japanese households.  The smaller size also means the santoku is cheaper than a comparable gyuto.  You can find many great santoku knives for less than $100.  It is a great way to start your chef journey.
Tojiro always has the most budget-friendly, authentic Japanese knives on the market.  The Tojiro DP Santoku is no exception.

The Tojiro DP Santoku is part of the same series as the Tojiro DP Gyuto knife mentioned above.  The core of the blade is made with VG-10 stainless steel.  This allows the knife to take on a very sharp edge, and retain it well over time.  The outer part of the blade uses a softer stainless steel cladding, making the knife easier sharpen when needed and less likely to chip.  It also gives the knife increased flexibility, making it good for amateur chefs.
The Tojiro DP Santoku uses a Western/hybrid handle made of wood and secured well with three rivets.  The handle is strong, and durable enough for professional use.
This knife comes sharp out of the box, and is easily one of the best entry-level santoku knives on the market.  If you are looking for a no-nonsense, high quality santoku that you can use for your daily cooking, then this is it.
Currently priced at $72 (Hocho Knife), the Tojiro DP Santoku offers amazing bang for you buck!
Other places to buy: Hocho Knife
MAC Knife is another longstanding brand that has a great reputation for making high quality, entry-level Japanese kitchen knives.   The MAC Superior Santoku is a great, basic santoku knife.

Unlike most knives on this list, the blade of the MAC Superior Santoku uses a mono-steel construction.  This means it is made of a single piece of stainless steel instead of having different steels for the core and outer cladding.   Despite the name of 6.5 inches, the blade is actually closer to 6.75 inches (170mm).
The knife features a typical Western style made from pakka-wood and secured with three rivets.  It is comfortable to hold, and not too heavy.
The MAC Superior Santoku comes quite sharp out of the box, and is a great, solid, all-around santoku knife.  In fact, it was the only recommended santoku knife in the popular "Cook's Illustrated" magazine.
For just $75, this knife also offers awesome value, and is a great choice for amateurs looking to get started with Japanese knives.
This handcrafted beauty from Yoshihiro brand is another great, all-around santoku knife.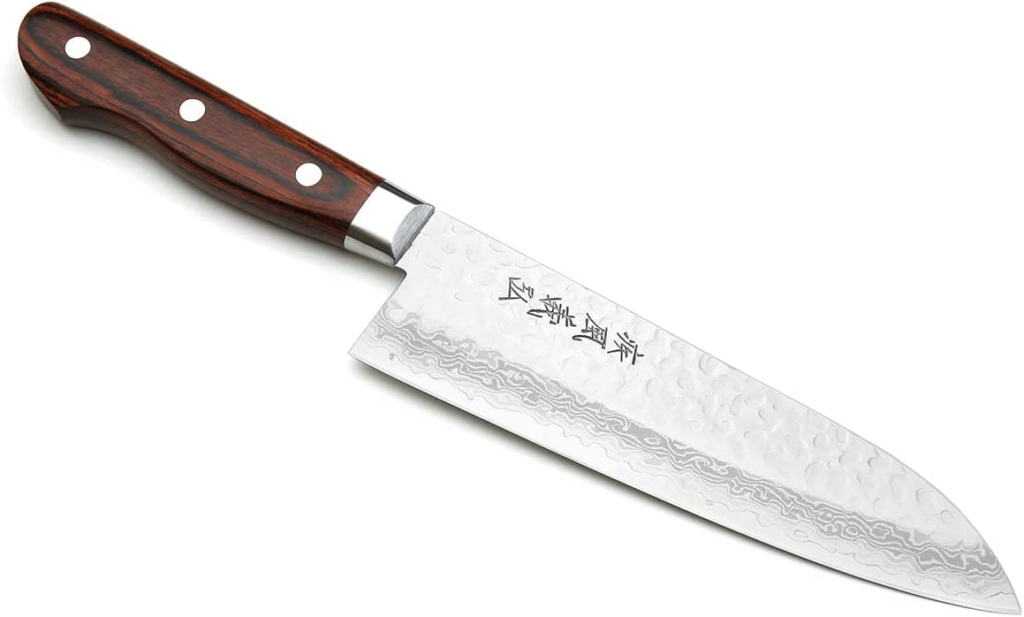 The blade is made with a high-carbon VG-10 steel core, clad with a softer 16-layer damascus style steel.   The knife looks beautiful, and its construction allows the blade to maintain its edge sharpness well, while the exterior is non-corrosive, durable and easy to maintain.  It has an overall hardness of 60 on the Rockwell scale.
The Western style handle is made from beautiful mahogany wood and shaped to fit your hand.  The knife is 100% handcrafted by skilled tradesmen in Japan, and is an excellent entry to mid-level santoku knife.  The only real downside is that it is more expensive than other entry level options like the Tojiro or MAC santoku knives.  It currently retails for $150.
If you don't mind paying a few extra dollars, and prefer the more premium look of this knife (beautiful handle), then the Yoshihiro VG-10 Damascus Santoku is great choice.
Note: The formerly recommended "Yoshihiro VG-1 Gold Stainless Steel Santoku" is no longer available.
Other Best Japanese Knife Types
There are many other Japanese knife types depending on your needs.  Here are a couple roundups or "best of" lists for you to consider:
I will continue to add more lists of different Japanese knife types in the future.
Best Japanese Knives Set
In general, I would not recommend buying a complete knife set — especially those huge 10-20 piece knife block sets.
Firstly, you will not need that many knives.  Secondly, the upfront costs is much more than buying one or two decent knives that you will actually use.  Sometimes, you will come across some extremely cheap box knife sets (i.e. 18 knives for $200!!!).  This may seem like a great deal, but these are always terrible knives.  Stay away!
Instead, by buying your knives individually over time, you can build a personalized, higher quality set of knives that matches your skill level.
There are some decent smaller Japanese knife sets you can buy that include two, or sometimes three basic kitchen knives to get you started.  Below are a couple examples to consider.
This two piece set includes the aforementioned Tojiro DP Gyuto (21cm), as well as a 10cm petty knife.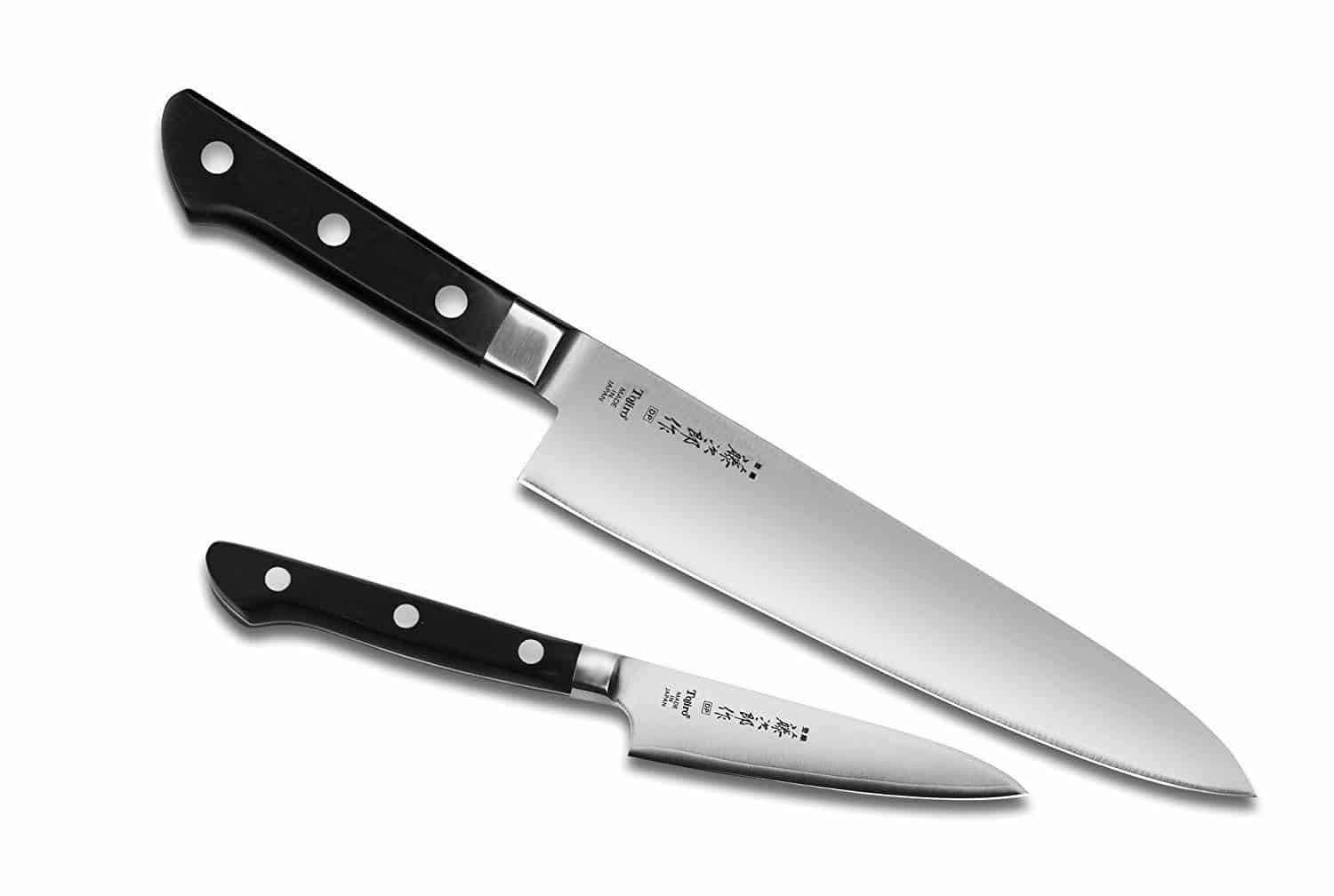 The petty knife is the Japanese version of a Western paring knife.  It is sometimes referred to as a utility knife, as it can be used for all sorts of tasks.  They are typically used for smaller, delicate work that the larger gyuto is not suitable for, such as cutting herbs, smaller fruits and vegetables.
The blades of both use a typical triple layer construction — with a hard VG-10 stainless steel core sandwiched between two layers of softer stainless steel.    This gives you the benefit of a razor sharp cutting edge along with corrosion-resistant exterior.  The handle is a full tang Western style handle firmly secured by three rivets.
There is nothing fancy about these Tojiro knives, which is what makes the appealing to many users.  They are just high quality, no-nonsense Japanese kitchen knives.  Best of all, this set is currently only $150 (on Amazon).  That is awesome value for two very solid knives that you will use frequently.  It is the perfect Japanese knife starter set.
For a fancier looking finish, check out the slightly more expensive Tojiro DP Damascus 2-piece starter set.
If you are looking for a slightly sexier looking set of Japanese knives to get you started, then you may want to consider this set from Yoshihiro.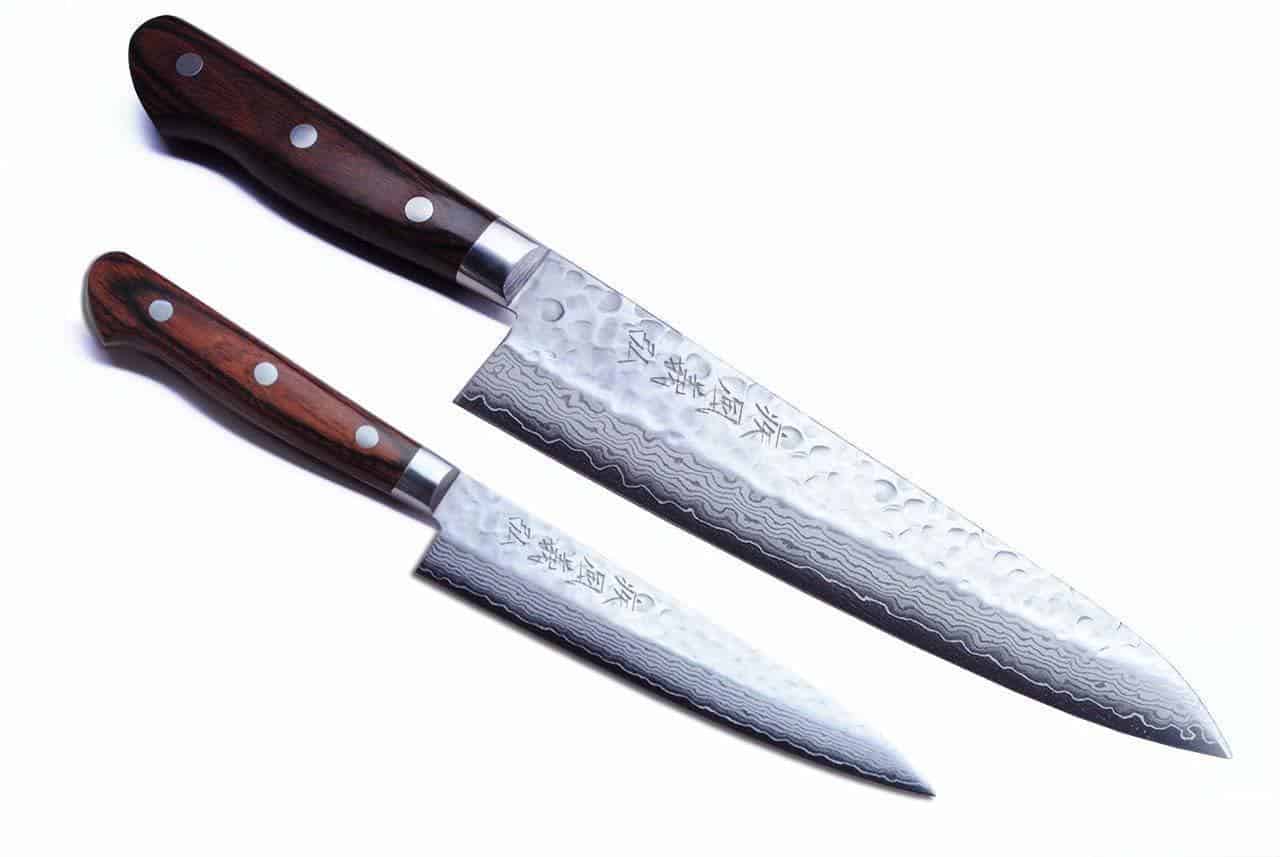 It includes the Yoshihiro VG-10 Gyuto (210mm), and a matching petty knife (135mm).
Both knives are constructed with a VG-10 stainless steel core (HRC 60), and 16-layer Damascus steel outer cladding.   The hard steel core allows the knife to retain a super sharp edge, while the outer layer adds durability and keeps food from sticking to the knife.  They are also stain and corrosion resistant for easier maintenance.
The Western style handle is made of beautiful, premium mahogany, and ergonomically shaped to fit your hand.
Overall, these are great looking, high-performing knives.  They are a bit higher priced at $260.  If you don't mind spending a bit more, than this Yoshihiro two-piece set would be an excellent choice for anyone looking to venture into the world of Japanese kitchen knives.
Where to buy Japanese Knives
If you would like to shop around more for your own preferred knife, there are plenty of options.
You can try to hit up your local knife store or dealer and see if they have any authentic Japanese knives for sale.  This way, you would be able to hold, and possibly use the knife before buying.
If you are in Japan, you will definitely be able to find some good local shops.  Many larger department stores will also have decent selection of knives.  You may even want to venture to some famous knife-making towns like Sakai or Seki, and check out knife production in person.
If you are not fortunate enough to be in Japan, or have a good local knife shop, or you are just too lazy to leave your house, then here are some recommended sites to buy online.   Most shops will ship worldwide.  If I missed any great knife shops on this list, please let me know!
Online Japanese Knife Shops
(The Chef Dojo may receive a small commission if you decided to purchase through affiliate links. It helps to support the website )
Amazon (affiliate)– Good ol' Amazon.  They sell everything, including some Japanese kitchen knives.  Amazon has a decent selection of entry-level Japanese knives, but are lacking in premium level knives.  You also need to be careful of low-quality sellers and brands masquerading as authentic Japanese knives.
eBay (affiliate) – If you know what you are looking for, then you may be able to find some great deals on eBay for new or second-hand knives.
Hocho Knife (affiliate) – This site is one of the best authentic Japanese knife shops on the web.  They have a huge variety of brands, from budget friendly Tojiro, to higher end Sakai Takayuki and beyond.  They also have all the accessories you need like cutting boards, and sharpening stones.  If you're looking for a Japanese knife, then Hocho Knife should be one of the first places you look.
Chef Knives to Go – This is a very popular site for knife enthusiasts.  They carry a huge range of high quality Japanese knives and brands.  You can find entry-level to high end knives here.  They also have many hard to find knives that other places will not carry.  Definitely worth checking out!
Chubo – Another great online shop that offers a very large range of authentic Japanese knife brands.  They have everything from entry-level knives to very high-end knives for professional use.  They also offer knife sharpening services.  Orders ship directly from Japan!
Knives and Stones – Australian based retailer that sells a wide range of high end Japanese knives, as well as some other cookware.  Carry mostly higher end knives, so prices will be a bit high if you're looking for entry-level options.
Korin – Located in New York, Korin sells everything from knives to tableware to sushi robots.  They have their own brand of knives, and also carry a few other brands.   They have their own store in Manhattan, New York if you happen to be in the area.
Japanese Knife Imports  – US based retailer that carries mostly higher-end Japanese knives, though they do have a few entry-level options.  Have their own storefront in Beverly Hills, California if you happen to be in the area.
Yoshihiro – Have a huge selection of knife types and price ranges.  All knives are sold under the Yoshihiro brand, but are in fact sourced from different knife makers throughout Japan.  You can find knives from $100 to $1000 at Yoshihiro.
Japanny – Japanese based e-commerce site with a huge selection of hand crafted kitchen knives.  Carry all knife types and a large variety of authentic brands.  They ship direct from Japan to over 100 countries around the world.
MTC Kitchen – Very large retailer / trading company that sells everything related to Japanese cooking and restaurant supplies — knives, tableware, pots, pans, and even chef hats!
Knifewear – Excellent Canadian based retailer with extremely large selection of authentic Japanese knives.   You can find everything from entry-level knives to super premium knives.   Offer the very cool option to search knives by blacksmith.
Yoshimune Knives (affiliate) – Small Japan based online retailer with their own little shop in Kyoto.  They source directly from master blacksmiths in Japan to get better pricing for customers.  Less selection than some of the other larger retailers above, but all of the topmost quality.  Ships worldwide.
Click here for a full list of Online Japanese Kitchen Knife Shops
Conclusion
A great Japanese knife will make your preparing meals more enjoyable, and help make you a better chef.  There are many factors to consider when picking your first Japanese knife, and the options/variations can be extremely overwhelming.  Steel type, blade style, handle style, knife type, and price are some of main things to consider when buying.
As an amateur chef, I recommend starting with a decent, entry-level gyuto (i.e. chef's knife) or santoku (all-around knife), before venturing off into the endless array of knife types (nakiri, yanagi, deba etc.).  I hope that this guide was helpful in helping you choose your Japanese kitchen knife!
Best Japanese Knives – What to read next:
On a budget?  Check out the best gyutos for under $100
Confused about steel types?  You're not alone — check out the Guide to Japanese Knife Steel Types
Already have a knife?  Learn how to maintain/sharpen it properly, and review your basic knife skills.
Ready for more specialist knives?  Check out the complete list of Japanese knife types.
Learn more in depth about Japanese knives with Japanese knives 101
Sources:
Wikipedia
JapanTimes