So, you want a new gyuto (i.e. Japanese chef's knife), but you don't want to spend much money?
… Or, maybe you just don't have much money??
Welcome to my world, friend. The world of begging choosers.
Most high quality Japanese chef knives are well over $100 (USD), but if you search hard enough, there are some budget-friendly gems out there.
Fortunately for you, I have done the research, and put together a beautiful list of the best Japanese chef knives for under $100!
The Best Japanese Chef Knives Under $100
In case you're in a rush, here is a quick list of the seven best gyuto knives under $100. Scroll down for detailed descriptions of each knife.
Things to look for
When you are on budget, you are going to have to compromise on a few things.
Usually, the handle will use a cheaper composite wood / plastic material. The blade steel will probably be some lower end stainless steel.
But, just because we are a bit more budget conscious (i.e. cheap ), doesn't mean we have to compromise on everything! For this list, I looked at the best chef knives with the following features:
Preferably, hand made in Japan
Decent blade steel (most budget friendly knives will use some sort of stainless steel like Molybdenum-Vanadium alloy, although there are a couple of budget friendly carbon steel choices)
Reputable Japanese knife brand / company
Sharp out of the box (who wants to have to sharpen a brand new knife??)
Under $100 (USD) … of course!
Stainless Steel Gyuto Choices
Most budget friendly knives will be made with some sort of stainless steel. Here are six of the best budget friendly stainless steel gyutos: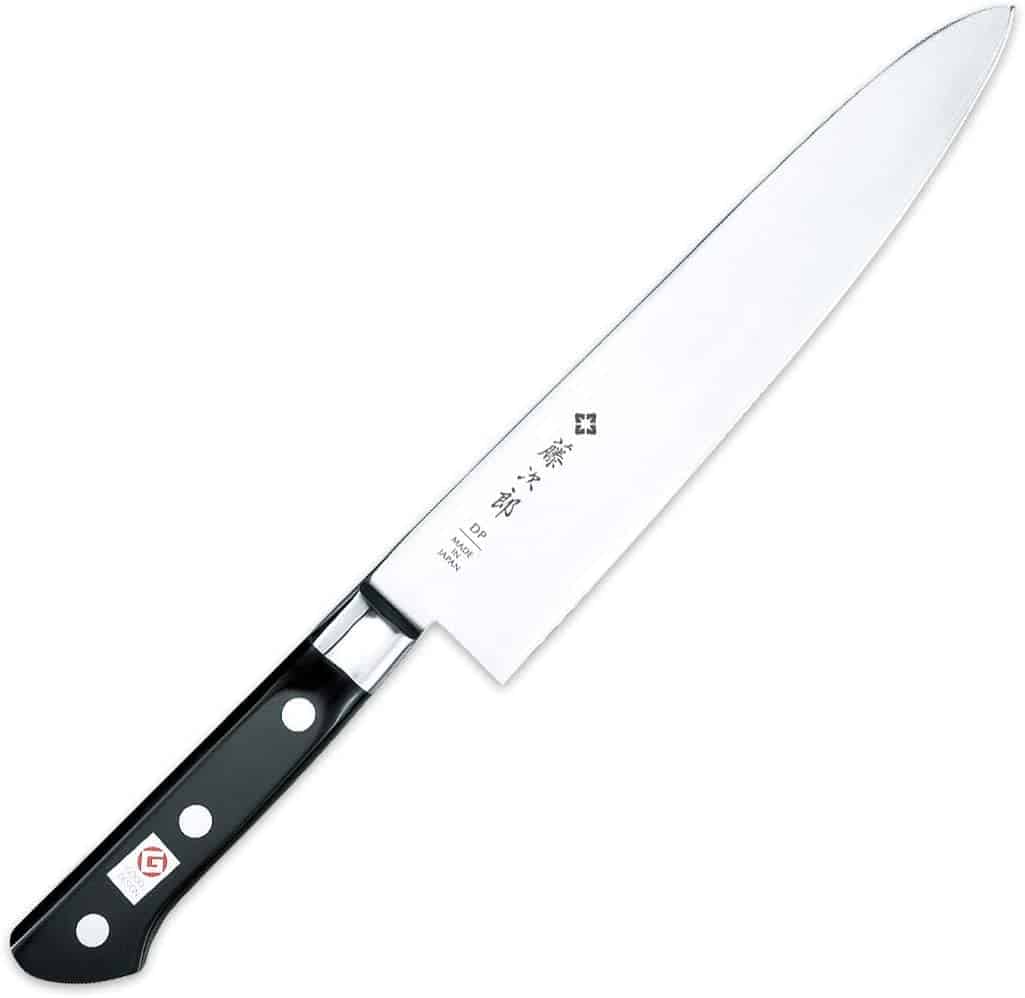 The Tojiro DP is one of the most popular, and best overall entry-level Japanese kitchen knives. It is also under $100. The price seems to be getting more and more expensive (probably due to its popularity), so snatch one up while it's still worth it.
The Tojiro DP gyuto is completely made in Japan, and features a wooden Western-style handle, with a triple layer stainless steel blade. The core of the blade uses a hard, high-end stainless steel (VG-10) while the outer layer uses a softer steel for easier sharpening and maintenance. The blade has a rating of 60 HRC on the Rockwood hardness scale. This is quite hard for such a budget friendly knife.
The blade edge's symmetrical makes this knife suitable for either right handed or left handed users. The blade profile and overall balance also makes it easy to use, and adaptable to all basic cutting techniques. The knife also comes sharp straight out of the box, so you don't need to waste time sharpening when you get it. Just start chopping away!
One slight downside of the Tojiro DP gyuto is that it is a bit heavier compared to similar sized Japanese knives (180 grams / 6.3 oz). It will still feel lighter than most Western equivalents if that is what you are used to.
Overall, the Tojiro DP is easily one of the best Japanese chef knives on the market. If you are looking for a solid gyuto to get started with, you really can't go wrong with this knife.
At time of writing, the Tojiro DP 210mm version currently sells for $85 (Hocho Knife), although the price seems to be rising slightly every so often. There is also a cheaper/smaller 180mm version, as well as more expensive 240mm/270mm/300mm versions.
Pros:
Excellent blade steel (VG-10) compared to other entry-level knives
Easy to maintain and sharpen
Super sharp out of the box
Cons:
Slightly heavier than other Japanese knives
Also available at: Hocho Knife (View all available sizes)
High Carbon Steel Choices
These days, it is a bit rare to find a gyuto that does not use a stainless steel blade. Most chefs will prefer a stainless steel knife for day-to-day use because of ease of maintenance. The advance in stainless steel technology has also resulted in blades with excellent cutting performance.
Some chefs though, who are looking for extreme cutting performance will prefer a high carbon steel blade. A true high carbon steel knife will still offer slightly better cutting performance versus a comparable stainless steel one.
Downsides of high carbon
The main downside of carbon knives is they are more difficult to maintain. Mainly, they will rust/discolor quickly if not kept dry or if exposed to acidity. The steel is also typically much harder (i.e. higher HRC), which means it will hold an edge better, but will also be more difficult to sharpen when needed.
If you want to try out a carbon knife for the first time, here a good budget choice to start with: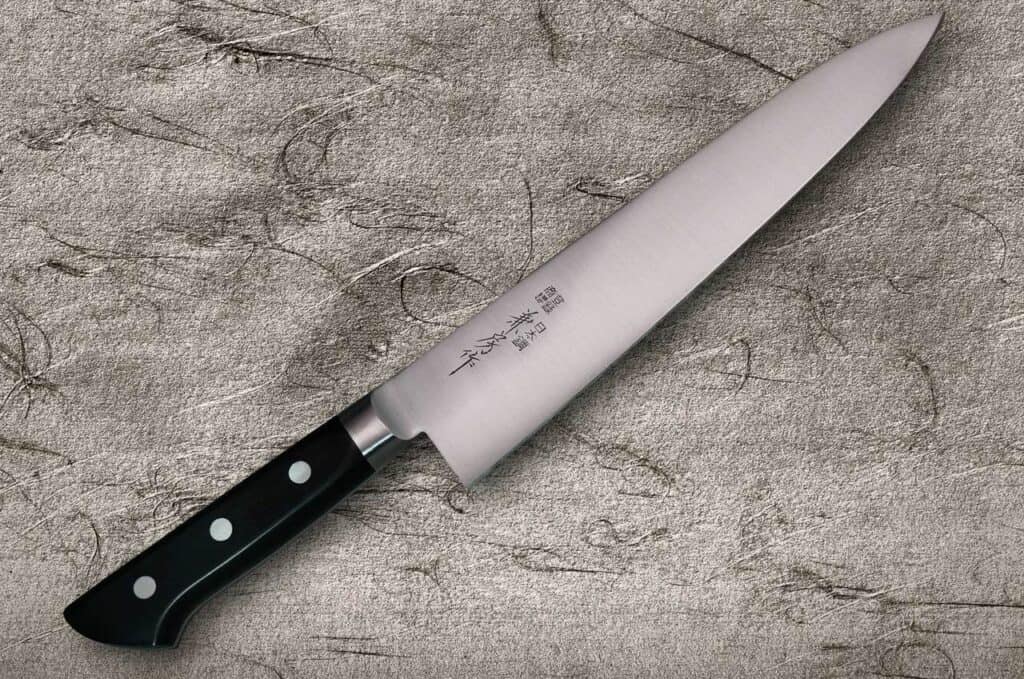 The Fujiwara FKH Carbon gyuto is the high carbon steel version of the previously mentioned Fujiwara FKM gyuto.
The blade uses SK-4 steel, which is one of the lower-end (i.e. most budget friendly) carbon steel options. This basically means that the steel has the lowest carbon content relative to other high carbon steels used for Japanese knives (e.g. White Steel, Blue Steel, etc.). It therefore measures slightly lower on the hardness scale (59 HRC) relative to other high carbon knives. This makes it a bit easier to sharpen though, which could be good for beginners looking for their first venture into the world of high carbon knives.
The Fujiwara FKH has an average weight for a Japanese gyuto (174g / 6.13oz). The Western handle is made of a typical black pakkawood, which is durable and comfortable for everyday use.
The blade edge has a 70/30 bevel, and is meant for right-handed users. Left-handed versions need to be custom ordered for a 10-15% increase in price.
Overall, the Fujiwara FKH Gyuto is well balanced, and a great entry-point into high carbon steel kitchen knives. There is nothing super exceptional about it, but it is quite cheap — selling for around $70 (210mm version). If you are interested in learning how to use/maintain a high carbon steel knife, then this is an excellent choice.
See all available sizes here (180mm, 240mm, 270mm, 300mm)
Also available at Chef Knives to Go and Japanese Chefs Knife
Summary
There you have it — 7 of the best Japanese chef knives for under $100! There are 6 stainless steel options, and 1 high carbon steel options for you adventurous ones.
All of these gyutos are great entry-level options, so the final choice really just comes down to your own preferences:
If you are simply looking for the cheapest Japanese chef's knife, then you may want to go with the Fuji Narihira or Ikkaku Donryu, as both are around $60.
For the most reputable brand, then the Misono, MAC, or Tojiro would be your best bet.
If you want an extra lightweight knife, the MAC or Ikkaku are both under 150 grams.
If you want a nicer handle, then the Fujiwara FKM is the only knife on the list that has an option other than the typical black pakkawood.
Every stainless steel knife on the list uses some variation of Molybdenum steel, except for the Tojiro DP, which uses the higher end VG-10 steel. So, if you want a better steel, then the Tojiro may be the best gyuto under $100.
I am sure there are a few great knives that I missed — let me know in the comments if you have any recommendations!
What to read next:
Once you choose the knife, make sure you know how to maintain it.
If you want to see a couple more choices (not necessarily under $100), then check out the best Japanese kitchen knives buying guide.
If you want to learn more about Japanese kitchen knives in general, check out Japanese Knives 101.
For a complete list of Japanese knife types, visit our ultimate knife types guide.