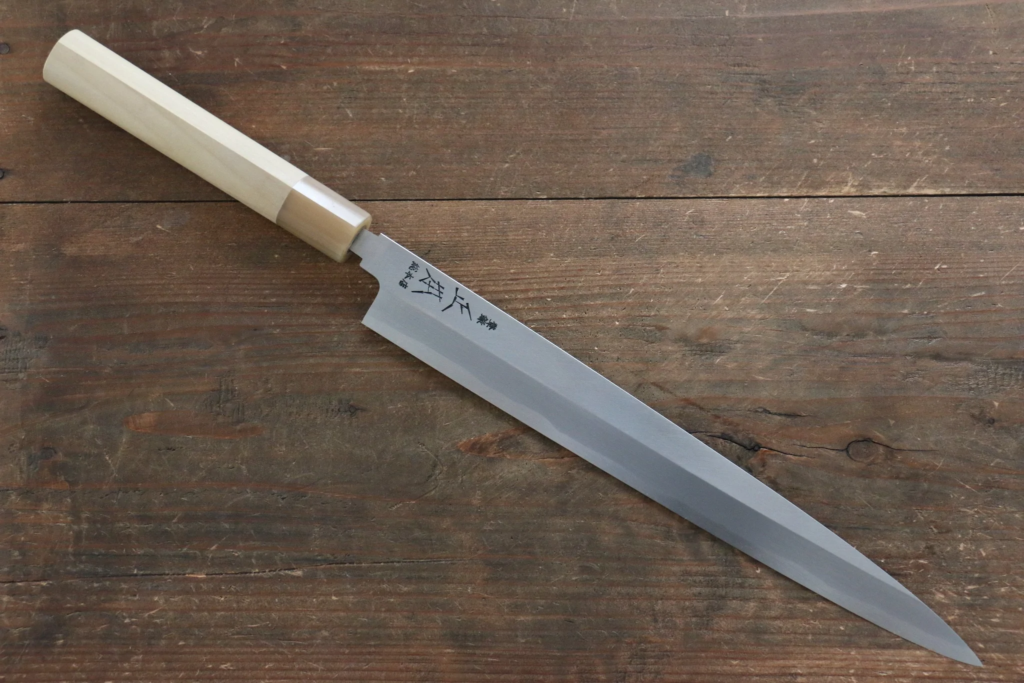 In this article, I take a look at some of the best yanagiba knives on the market today.
I'll cover:
What a yanagiba is
Factors to consider before buying
Knife recommendations
Frequently asked questions about yanagiba
Let's get started!
What is a yanagiba knife used for?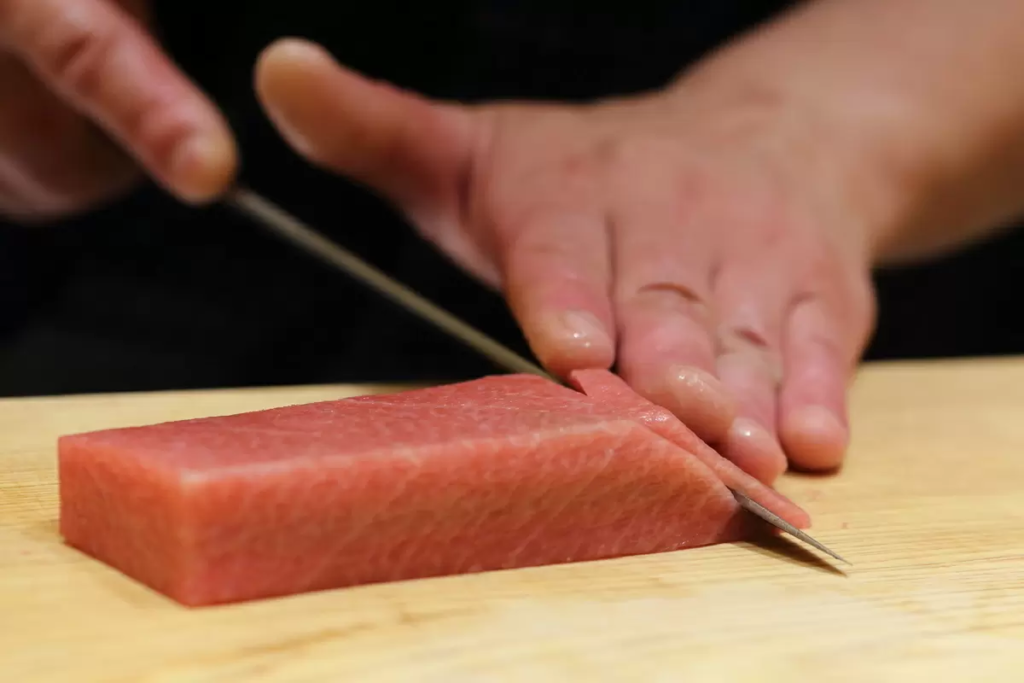 A yanagiba (柳刃) is the most popular type of sashimi knife in Japan. The term "yanagiba" translates to "willow tree blade", and is in reference to the knife's long, slender, pointy blade which resembles a willow leaf.
The single-bevel blade is perfect for making precise, clean slices through raw fish without damaging its appearance or texture. The long length of the blade allows a skilled chef to slice through a fillet in one motion, instead of sawing back and forth. If the blade is too short, it will be difficult to slice through in one motion.
Here are some factors to consider when choosing a yanagiba for yourself:
Factors to consider
Steel type
Stainless steel or high-carbon? Most professional yanagiba come in high-carbon steel as it is the more traditional style. High-carbon steel typically has better cutting performance, so is preferred by professional sushi chefs. They rust easier though, so also require careful maintenance.
You can still find some yanagiba made with stainless steel, which is easier to care for.
For more about Japanese knife steel types, check out this article.
Size
Yanagiba knives are available in quite a wide range of sizes (i.e. blade lengths). The lengths typically range from from 210mm to 350mm and beyond. Lengths beyond 300mm are usually only used by restaurants / professionals.
Pick a blade length appropriate for your skill level and kitchen size. A shorter knife is easier to work with, but a longer knife is better for slicing larger pieces of fish.
Manufacturer / Brand
It's always a good idea to choose a reputable brand or shop to purchase your knives from. This ensures you get an authentic, high quality Japanese knife. There are many cheap knock-offs that you need to careful of. This is true especially on sites like Amazon. I have helped weed through the listings in my recommendations below.
Price
Lastly, price is always a factor. Price depends on a combination of the steel type, size, and manufacturer/blacksmith. Yanagiba is a specialist knife used mainly by professional chefs, so average prices are typically higher than an all-purpose knife like a gyuto or santoku. There are still some budget options available. Read on for recommendations:
Best Yanagiba Knife: 4 Recommendations
Here are some great yanagiba knives that I found online. There's something for everyone (budget-friendly, professional, stainless / high-carbon). Check them out:
(** The Chef Dojo recieves a commission if you purchase through these links. It helps to support the website. :))
Comparison Table
| Knife | Steel | Blade length | Price | Purchase |
| --- | --- | --- | --- | --- |
| Yoshihiro Shiroko Yanagiba | White Steel #2 | 240mm - 330mm | $240+ | Amazon |
| Sakai Takayuki Silver-3 Yanagiba | Silver-3 Stainless (Ginsan) | 240mm | $180 | Hocho Knife |
| Kai Seki no Magoroku | Stainless MV steel | 180 - 240mm | $50 | Amazon |
| Masamoto Honkasumi Shirotama Yanagiba | White Steel #1 | 240mm | $365 | Hocho Knife |
This beautiful, hand-crafted knife from Yoshihiro brand has a core of high-carbon White Steel #2 (i.e. Shirogami No. 2). The steel is very hard, with a rating of 62-63 HRC. This means the knife can take, and retain a sharper edge relative to softer steel knives.
The thin, single-bevel blade also comes super sharp out of the box, and is ready to use right away.
The traditional Japanese style wood handle is lightweight and gives good balance to the knife. It is a D-shaped handle, so only meant for right-handed users. It is available in two colors/styles (Rosewood / Brown or Magnolia / White).
Overall, this is an excellent, entry to mid-level professional yanagiba. It even comes with a blade cover (i.e. saya) to protect the knife when you're not using it.
It is available in multiple sizes, with blade lengths ranging from 240mm to 330mm. Prices range from about $240 – $370 depending on size.
If you are looking for a professional level, high quality, traditional sashimi knife, then this Yoshihiro is a great choice.
Pros:
Lightweight, and well balanced
Excellent steel (Shirogami #2)
Comes with blade cover
Cons:
Also available directly from Yoshihiro's shop at echefknife.com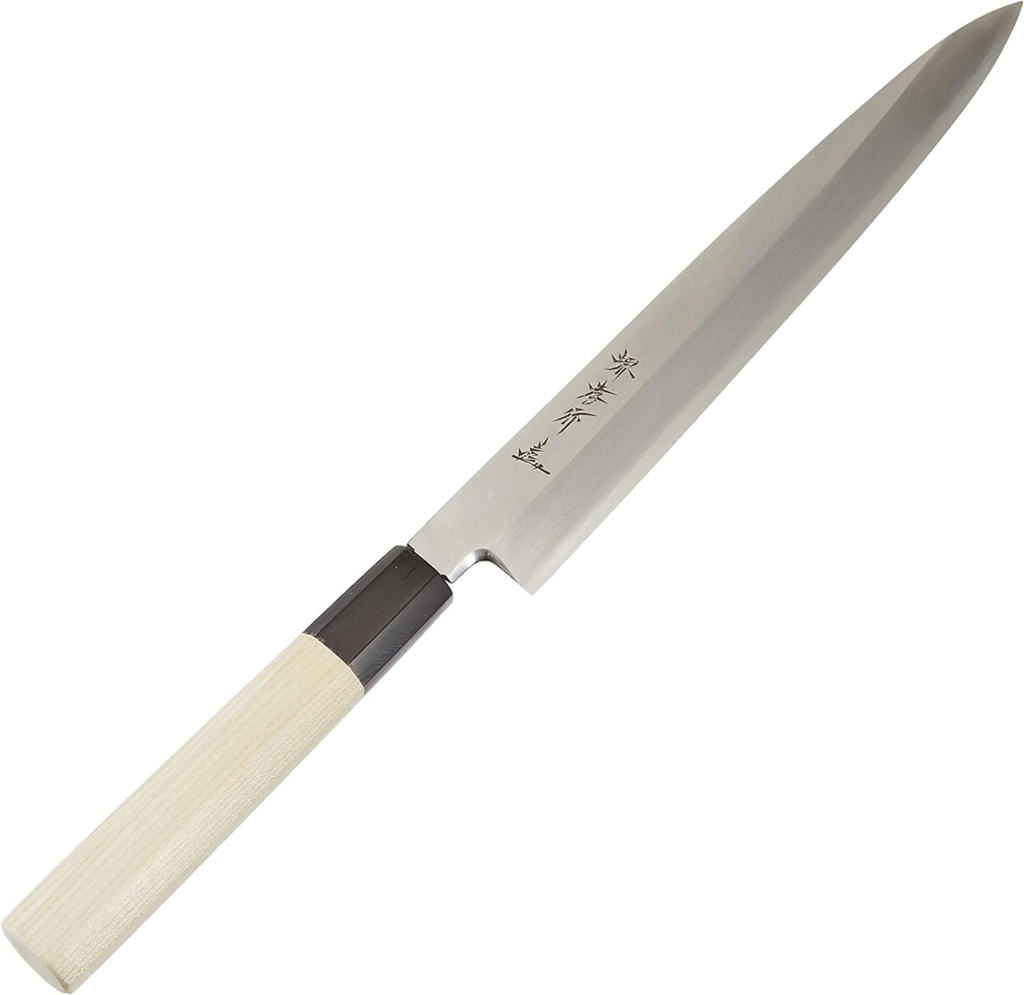 Sakai Takayuki is one of the most famous knife brands in Japan. They are based in the city of Sakai, which is considered the home of Japanese knives.
This particular yanagiba is made with Silver-3 (i.e. Ginsan or Gingami No. 3) stainless steel. It is considered a higher-end stainless steel type that offers excellent cutting performance equivalent to high-carbon shirogami steel (i.e. white steel). It is one of the few stainless steels that is used to produce professional-level, traditional Japanese knife types like yanagiba. The hardness of this knife is rated around HRC 59-61.
The knife is lightweight and features a typical traditional wooden handle.
If you are looking for a professional Japanese sashimi knife made with stainless steel, then this Sakai Takayuki Yanagiba may be the best choice for you.
It is available in multiple sizes, from 240mm to 360mm.
Pros:
High quality stainless steel (Ginsan / Silver-3); easier to maintain than high-carbon
Very famous, reputable brand
Reasonable price for professional grade knife
Multiple sizes available
Cons:
Sizes: 240mm, 270mm, 300mm, 330mm, 360mm
Also available at: Amazon (240mm)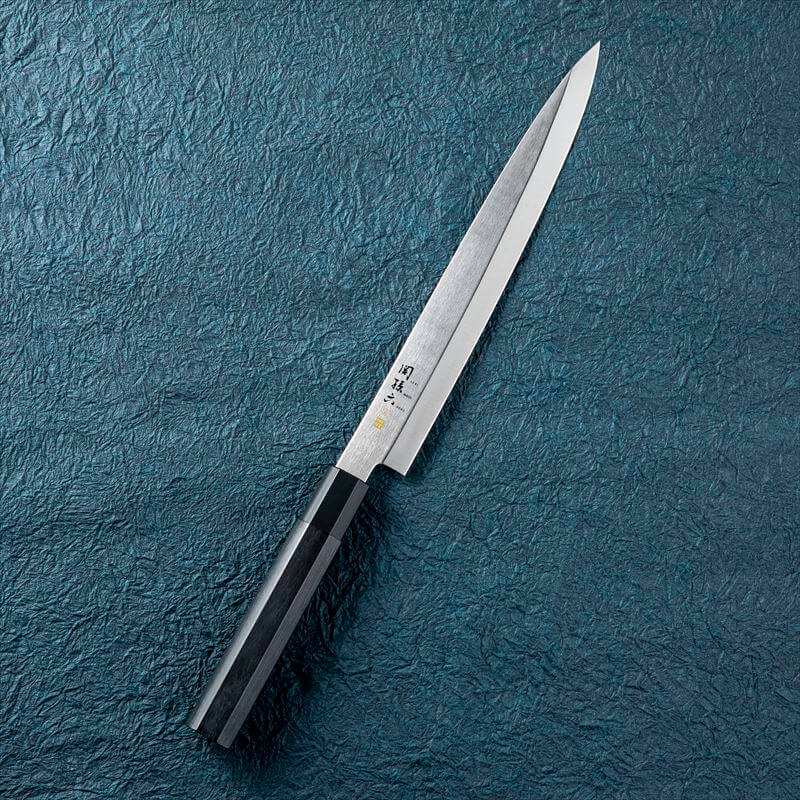 Kai Group is a Japanese company best known for manufacturing quality, entry-level kitchen knives (as well as other tools). They are the company behind the popular international knife brand "Shun".
"Seki Magoroku" (関孫六) is another brand line from Kai Group. It focuses on high quality knives that pay homage to a famous swordsmith from the town of Seki — which is also known throughout Japan for its knives/swords.
This particular sashimi knife features a single-bevel stainless steel Molybdenum Valadium (MV) blade with hardness level of about 59 HRC. It is rust-resistant and easy to clean. The traditional style handle is octagonal shaped, and made of laminated, reinforced wood.
Overall, this is a great entry-level yanagiba. It definitely can not compare to more professional level knives like the above Sakai Takayuki, but is a great choice for beginners to learn with.
It is only available in three blade length sizes (180mm, 210mm, 240mm). It is very well rated by customers, and is extremely cheap at less than $50!
If you just want to try out a yanagiba for the first time, then this is the perfect knife for you.
Pros:
Very cheap price
Easy to maintain stainless steel
Great for beginners
Reputable brand
Cons:
Lower quality steel / materials used
Mass produced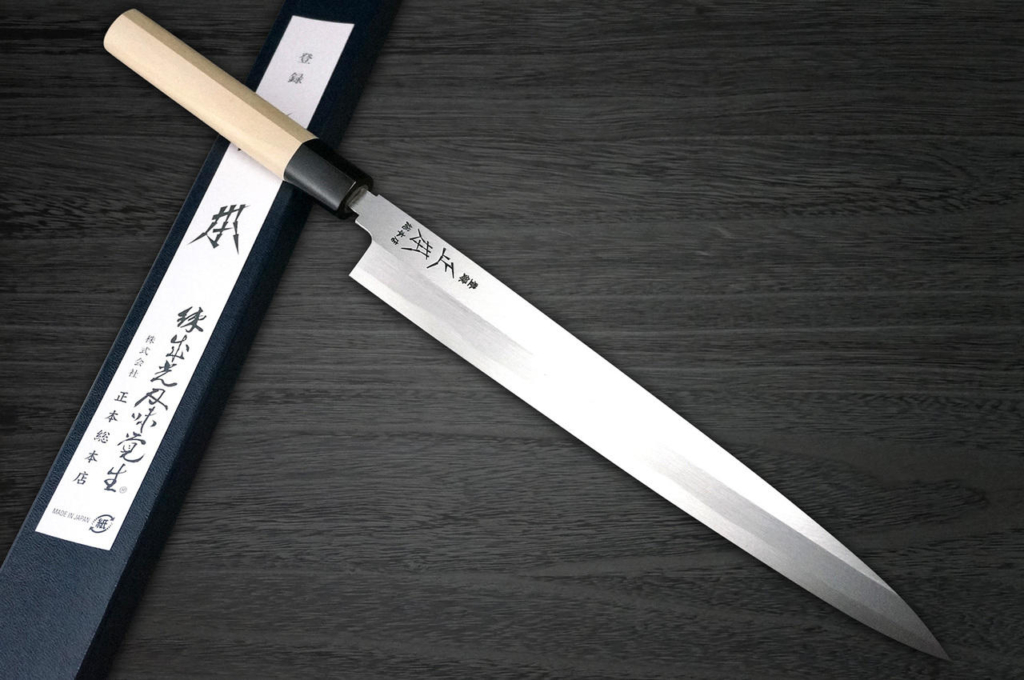 Masamoto is one of the most famous knife brands in Japan, with history dating back to 1846. They are based out of Tokyo, with their main store near the old Tsukiji fish market.
This particular yanagiba is hand forged using kasumi method (hard steel core, with softer outer layer). The core uses high quality white steel #1 (i.e. shirogami). It is a very pure, hard steel that gives superb cutting performance and sharpness retention.
This only downside of this high end carbon steel is that requires professional care and maintenance. If used improperly, it will rust and chip easily.
The handle is traditional style octagonal-shaped. It was made for use by professional sushi chefs, so is very high quality, and offers excellent durability.
The knife is only available available in five different blade sizes from 240mm to 360mm. Prices start from over $300.
If you are a professional, know what you are doing, and ready to splurge… then this may be the best yanagiba knife for you.
Pros:
Famous knife brand
Super high quality steel
Professional sushi chef level knife
Cons:
All sizes: 240mm, 270mm, 300mm, 330mm, 360mm
Some other yanagiba options
If you're not a fan of the above, there's plenty of other options online for you to find a yanagiba. There are too many to list, but here are some places to get you started:
Yanagiba FAQ
Here are some other frequently asked questions about yanagiba:
Yanagiba vs Sujihiki: What's the difference?
Yanagiba is a professional sashimi knife which typically has a single-bevel blade. Sujihiki knives use double-bevel blades and were originally designed for slicing/butchering meats. These days, some people also use sujihiki knives for slicing sashimi as well.
Check out a full comparison here.
Yanagi vs Yanagiba
"Yanagi" (柳) simply means willow tree. The "ba" (刃) character means blade or sword. So, combined together, yanagiba (柳刃) literally means "willow tree blade" or "willow tree sword".
Yanagiba vs Other sashimi knives
There are other types of sashimi knives like takohiki (i.e. octopus sashimi knife), and fuguhiki (i.e. puffer fish sashimi knife), but the yanagiba is the most popular style throughout Japan. Each has its own unique shape. For example, takohiki has a flat tip, while the fuguhiki is typically thinner and narrower. Check out this full list of Japanese knife types.
How to sharpen a yanagiba knife?
Check out this great video from Burrfection to learn how to sharpen a yanagiba. It is a bit long, so perhaps I will create a breakdown of it in the future. Video:
How to use yanagiba knife
A yanagiba is typically used with the 'pull-cut' method. The single bevel blade also means you need to hold the blade at a slight angle to keep your slices uniform. I will create a breakdown in a future article. For now, check out this video from Knifewear for a basic overview (skip to about 3:40):
Summary
That was my guide to buying the best yanagiba knife for yourself.
There are plenty of options out there depending on your needs/skills, and preferences. If you just want to try a yanagiba for the first time, then consider a cheaper stainless steel one like the Kai Seki no Magoroku.
For mid-level / professional knives, try the Yoshihiro (high-carbon white steel) or Sakai Takayuki (Silver-3 stainless steel).
If budget is no concern, then your options are really limitless like the Masamoto Honkasumi Yanagiba.
Let me know in the comments:
Have you ever used a yanagiba? Which knife would you choose?
What to read next:
Check out a detailed comparison of Yanagiba vs Sujihiki.
Looking for another type of knife? Check out my ultimate list of Japanese knife types
Need a more general all-purpose knife? Check out this buying guide, or best cheap gyuto article.