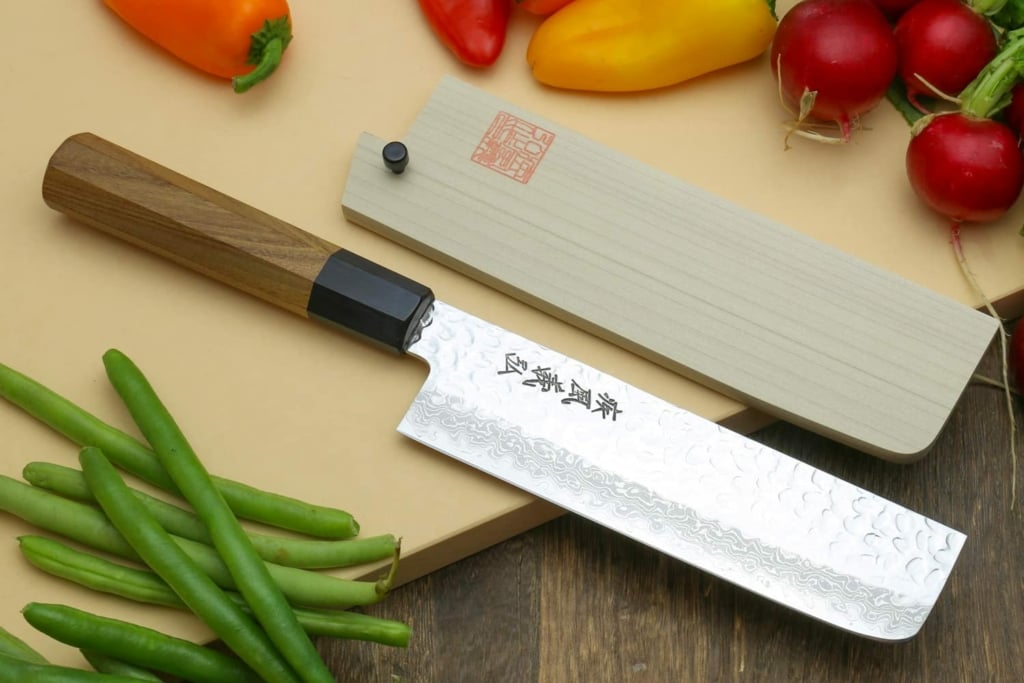 What's the best nakiri knife?
In this detailed buying guide, I take a look at some of the top nakiri knives on the market today. I also cover some useful facts that will help you in your buying decision.
If you're interesting in getting a great Japanese vegetable knife for yourself, then read on for:
What is a nakiri knife used for
Nakiri knife recommendations
Factors to consider when buying
Differences with usuba and santoku
How to use a nakiri
Let's get started!
What is a nakiri knife used for?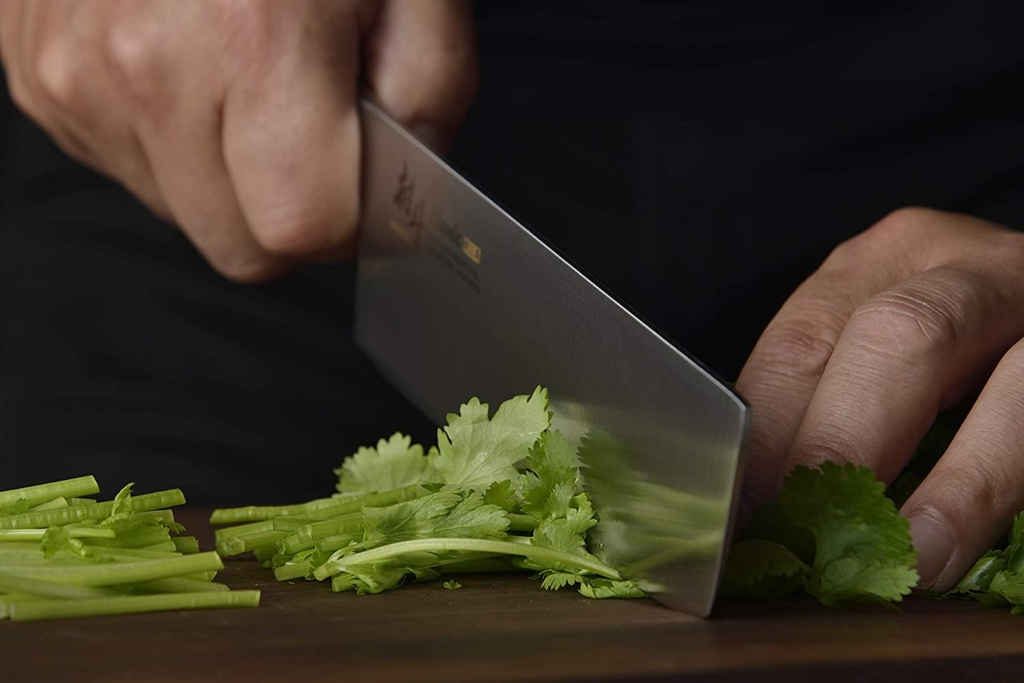 A nakiri is a Japanese knife type specifically designed for cutting vegetables. It features a double-bevel blade edge (i.e. Western style).
Its blade profile is rectangular with no curve or pointed tip. The flat blade edge helps you cut cleanly through vegetables (i.e. no more accordion cuts). The thinner blade also allows you to make more precise vegetable cuts than a typical chef's knife (i.e. gyuto) or santoku. Nakiri knives are typically lighter than a chef's knife, so will help you finish your vegetable prep work in a breeze.
Despite looking like a meat cleaver, a nakiri is not really appropriate for chopping/butchering tough meats or fish. The thinner, lightweight blade is more likely to chip or deform if you use it for cutting tough objects.
The name "nakiri" (菜切り) literally translates to vegetable cutter. (菜 means vegetable, 切り means to cut).
Now, onto the recommendations:
Best Nakiri Knife: 11 Recommendations
(The Chef Dojo receives a small commission if you decided to purchase through some of these links. It helps to support the website 🙂 )
In case you're in a rush, here's my top three nakiri knives that are easily purchasable online. They are categorized by general price range:
Premium ($200+)
Standard ($100 – $200)
Budget (under $100)
Premium Choice: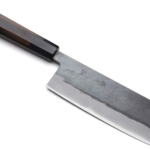 ---
Blue Steel #2
Stainless cladding
Professional performance
Mid-level Choice: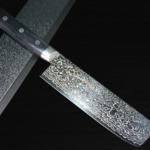 ---
AUS10 Stainless Steel
Reputable brand
Great value
Budget Choice: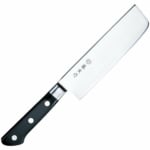 ---
VG-10 Stainless Steel
Reputable brand
Durable design
Best Nakiri Knife comparison table
Here's a complete table of the 11 best nakiri choices available online. I have weeded out the fake Japanese knives, so you don't have to.
Scroll down for a more detailed description of each knife.
Premium picks ($200+)
If money is not a concern, then here are a few nakiri knives to consider: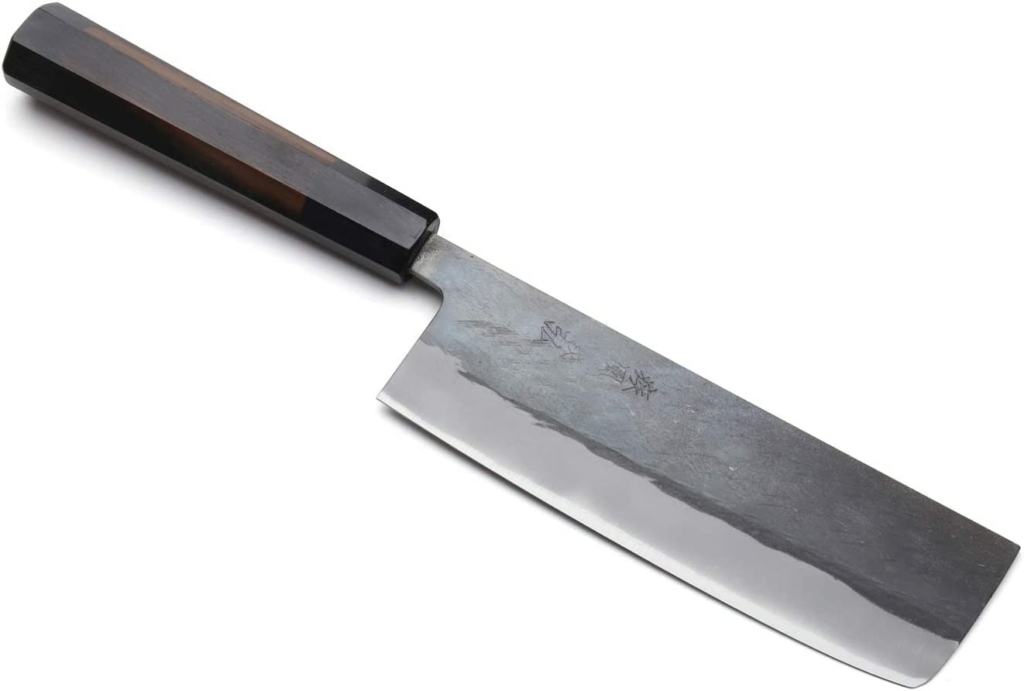 PROS:
High end Blue Steel #2 core (HRC 62-63)
Stainless cladding for easier maintenance
Professional level performance
Looks great
CONS:
Nothing really; high-carbon blade requires more care
This is a great professional-level nakiri knife from Yoshihiro brand. The blade is made with a core of Blue Steel #2 (i.e. aogami #2), with a hardness rating of around HRC 62-63. This provides the knife with awesome cutting performance and excellent edge retention.
The high-carbon core is cladded with stainless steel for better durability and easier overall maintenance (except for the cutting edge). This helps give the knife the best of both worlds — cutting performance of blue steel with the easy maintenance of stainless steel.
This cladded blade design also gives the knife a very cool, unique aesthetic. The traditional style, octagonal, rosewood handle further adds to the beauty of this knife.
If you are looking for a premium, professional-level nakiri, then this Yoshihiro Kurouchi is an excellent choice. It retails for around $225.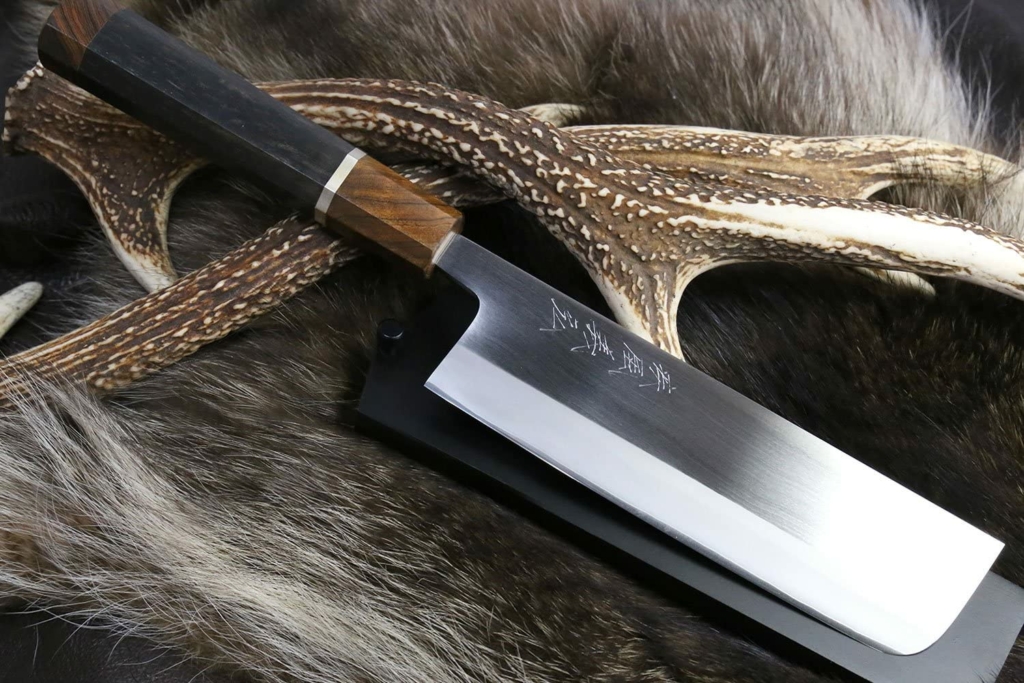 PROS:
High-end ZDP-189 powdered steel (HRC 66-67)
Looks beautiful
If you're looking to blow some money, check out this nakiri.
It is made with high-end ZDP-189 powdered stainless steel, which is considered a "super" steel developed by Hitachi metals. The steel has insane hardness rating of HRC 66-67 which means it will retain a sharp edge for a very, very long time. It also means that it will be very difficult to sharpen when it ever does dull.
Overall, the knife is beautiful, including the ebony wood, octagonal style handle.
Costing nearly $700, this seems more like a collector's knife, then one you would use in day-to-day cooking. If you have the money to buy this, then please let me know how it is.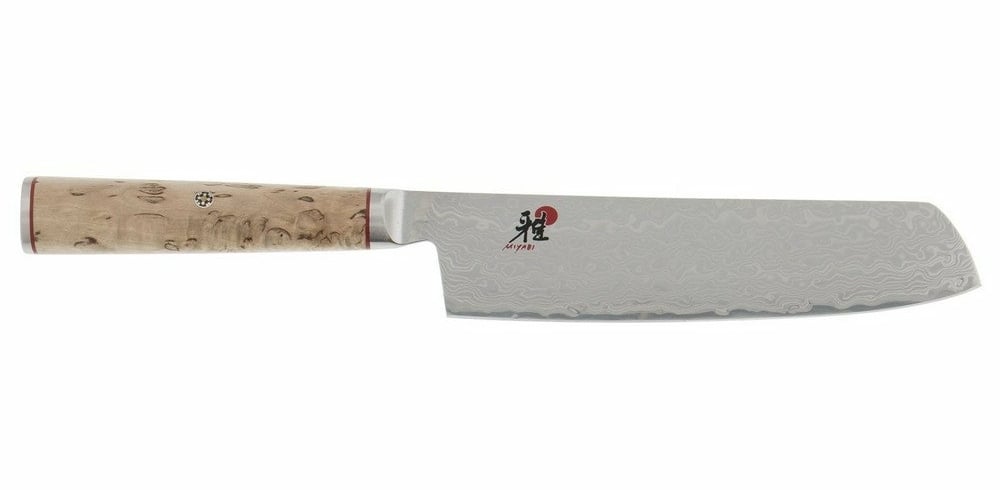 PROS:
Excellent stainless steel (SG-2)
Looks nice
Reputable brand
CONS:
Slightly curved blade profile (can be good or bad depending on preferences)
Miyabi is a popular knife brand that is made in Japan, but from a German kitchen company called Zwilling. It's a bit confusing. Basically, the German company has and office / production center specifically set up in Japan to make their Miyabi line of knives.
This particular knife uses the excellent SG-2 powdered steel. It has a hardness rating of HRC 63. It offers excellent edge retention and cutting performance, though may be difficult to sharpen for beginners.
The blade profile is a bit more curved than a very traditional nakiri. This may be preferred by people who like to rock chop. If you are looking for a completely flat blade edge like a traditional nakiri, then you probably will not like this design choice.
The handle is also sort of a mix between traditional Japanese and Western style handles. It is made of birchwood, with a traditional D-shape form. The way the handle is attached to the blade is more Western style.
Overall, this is an excellent and well balanced nakiri that is a fusion between Western and Japanese designs. If you don't mind the nearly $300 price tag, then it is a great choice.
Standard/mid-level picks ($100 – $200)
These standard/mid-level nakiri knives are a step up from the budget or entry level knives. They offer a good balance between quality materials, aesthetics, with moderate pricing.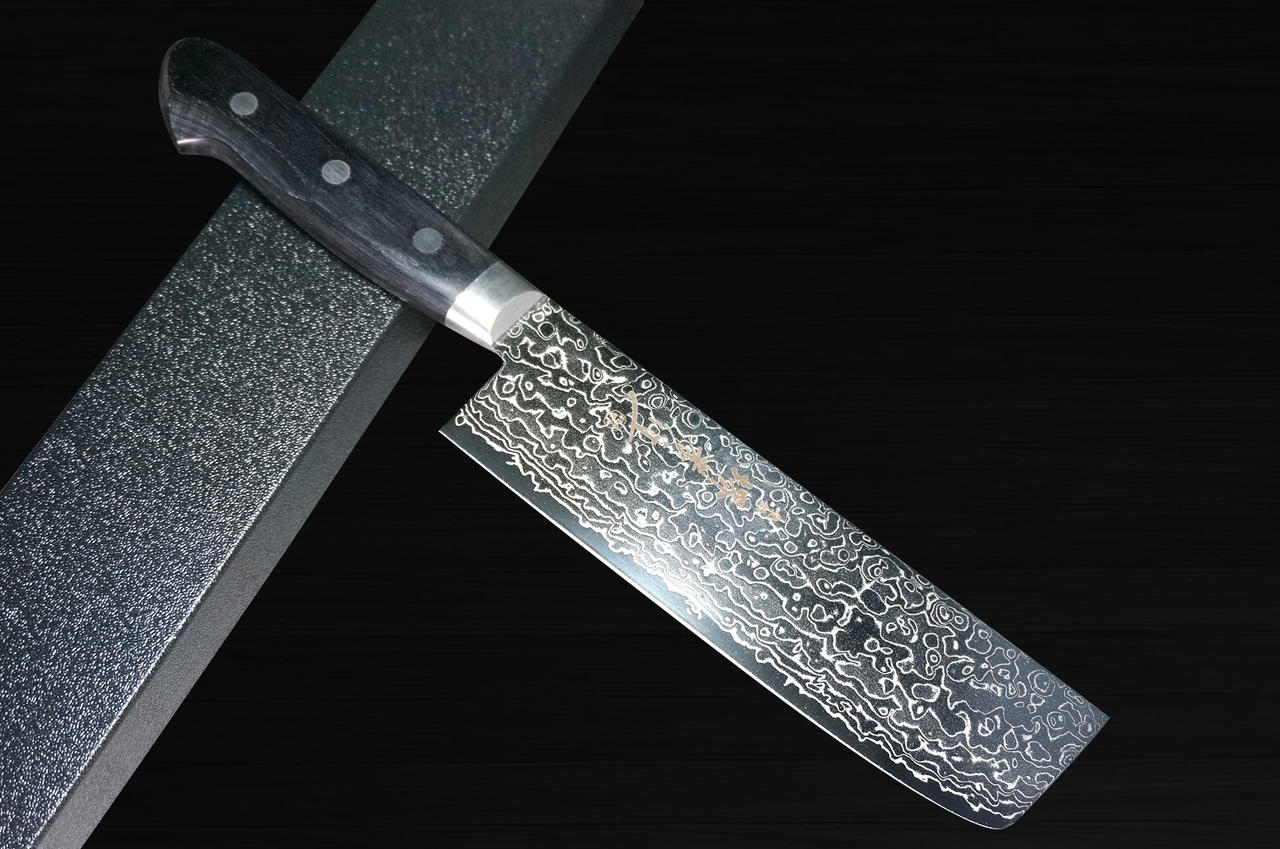 PROS:
Very famous/reputable brand
Super sharp out the box
Looks great
Good value
Sakai Takayuki is one of the largest, and most famous knife brands in Japan. They are based out of the famous knife town of Sakai, and work with a large number of local blacksmiths and craftsmen to produce their knives.
This particular nakiri features a damascus style blade made with AUS-10 stainless steel core. The knife is well balanced, fairly lightweight, and super sharp out of the box.
It features a Western-style wooden handle attached securely with three rivets. There is also a version with a traditional Japanese handle available here.
Overall, there is not much negatives to the knife. Perhaps the 160mm length blade is too short for some people. (For a longer blade, check out the next knife)
The Sakai Takayuki nakiri sells for around $120, which is excellent value for this quality of knife. Get it while you can!
For similar knife, but with a traditional Japanese handle, click here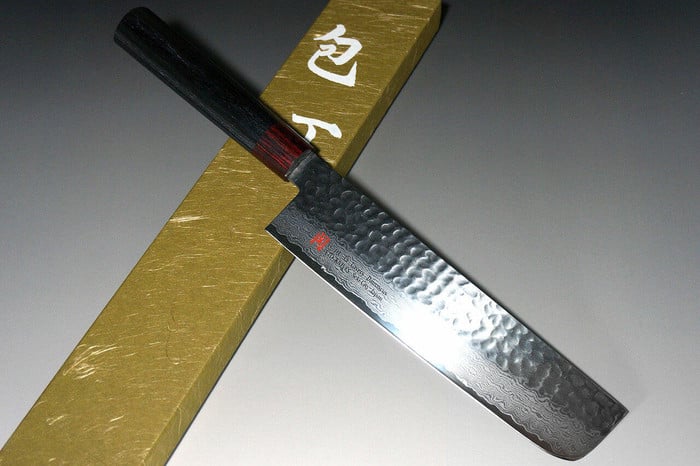 PROS:
Reputable brand
Excellent value
Beautiful design
Super sharp out of the box
Iseya is a knife brand produced by Seto Cutlery, a long standing knife manufacturer based out of Japan's other famous knife town — Seki City.
This is one of the most popular nakiri knives, and for good reason.
It has a damascus style blade that is constructed around a VG-10 stainless steel core. This is an excellent steel (HRC 60) often used in professional level knives, as it offers good rust resistance while being able to maintain a razor sharp edge.
The hammered style blade design (i.e. small indents / dimples) is supposed to help food not stick to the blade when cutting.
The blade length is 180mm (7.1 inches), which makes it one of the longer knives on this list. It is still fairly lightweight (170g), and comes super sharp out of the box.
The traditional style D-shaped handle is made of a basic laminated wood. The black and red design looks great (in my opinion).
Overall, this is an awesome nakiri to have in your collection. Best of all, it only costs $110, which is amazing value.
It is a very popular knife, so make sure you snatch one up while you can!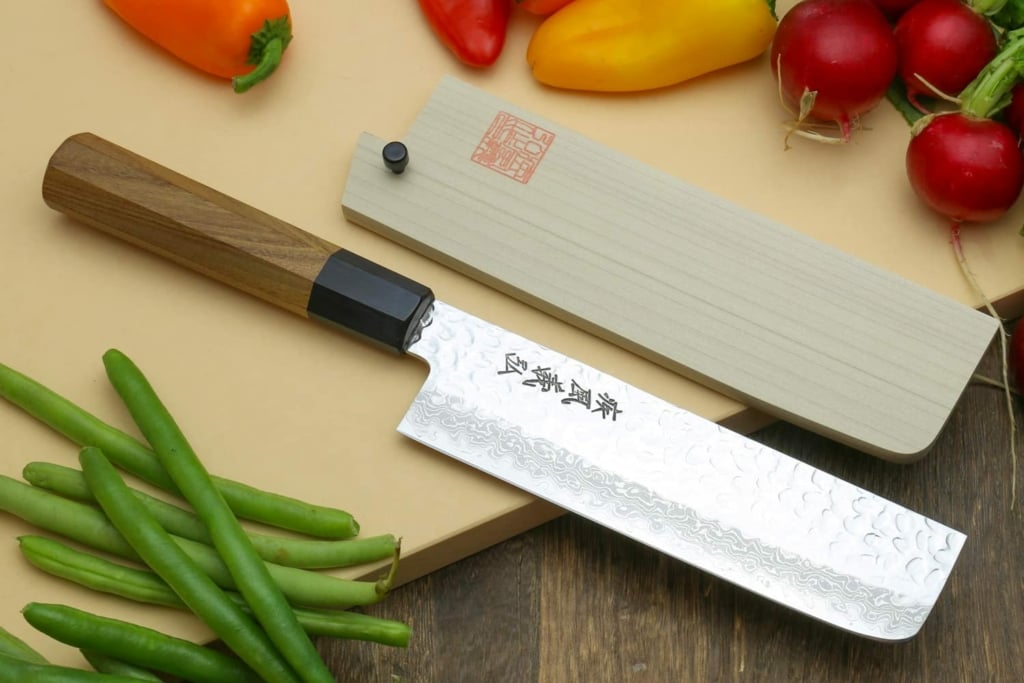 PROS:
Good VG-10 stainless steel (HRC 60)
Comes with blade cover (i.e. saya)
Looks great
Here is another good knife from Yoshihiro brand. This damascus style nakiri also uses VG-10 stainless like the Iseya knife above. It has hardness rating of HRC 60, and offers great cutting performance while being easy to maintain.
The traditional Japanese style handle is made of lightweight Ambrosia wood and looks great.
Overall this a great entry to mid-level nakiri to have in your home kitchen. It also comes with a blade cover to protect your knife when it's not in use. The blade is 165mm (6.5 inches).
It currently retails for about $170. This is a bit pricey when compared to the similar Iseya or Sakai Takayuki knives above. Check the most current price below:
For a similar knife with Western handle, check out this Yoshihiro here: link

PROS:
Good stainless steel (VG-MAX)
Quality construction
Reputable brand/company
CONS:
A bit heavier than other nakiris
Little overpriced
Shun is a popular Japanese knife brand made by Kai Group. The Classic Nakiri uses Shun's proprietary "VG-MAX" stainless steel. It is like an upgraded version of VG-10 steel. It is slightly harder (HRC 61), which means better edge retention, but also slightly more difficult to sharpen when needed.
The D-shaped handle is made out of black pakkawood, and is easy to handle. Overall, the knife looks pretty nice, and has that typical 'Shun' style. If you want
One downside is that the knife is a bit heavier than most other nakiris. It weighs about 215g (7.5oz). Compare this to the Tojiro (175g / 6.1 oz), or Yoshihiro (187g / 6.6oz).
The knife currently retails for around $170.
For same knife with lighter colored handle, check out this Shun: Link
For slightly cooler looking (and more expensive) version check out the Shun Premiere Nakiri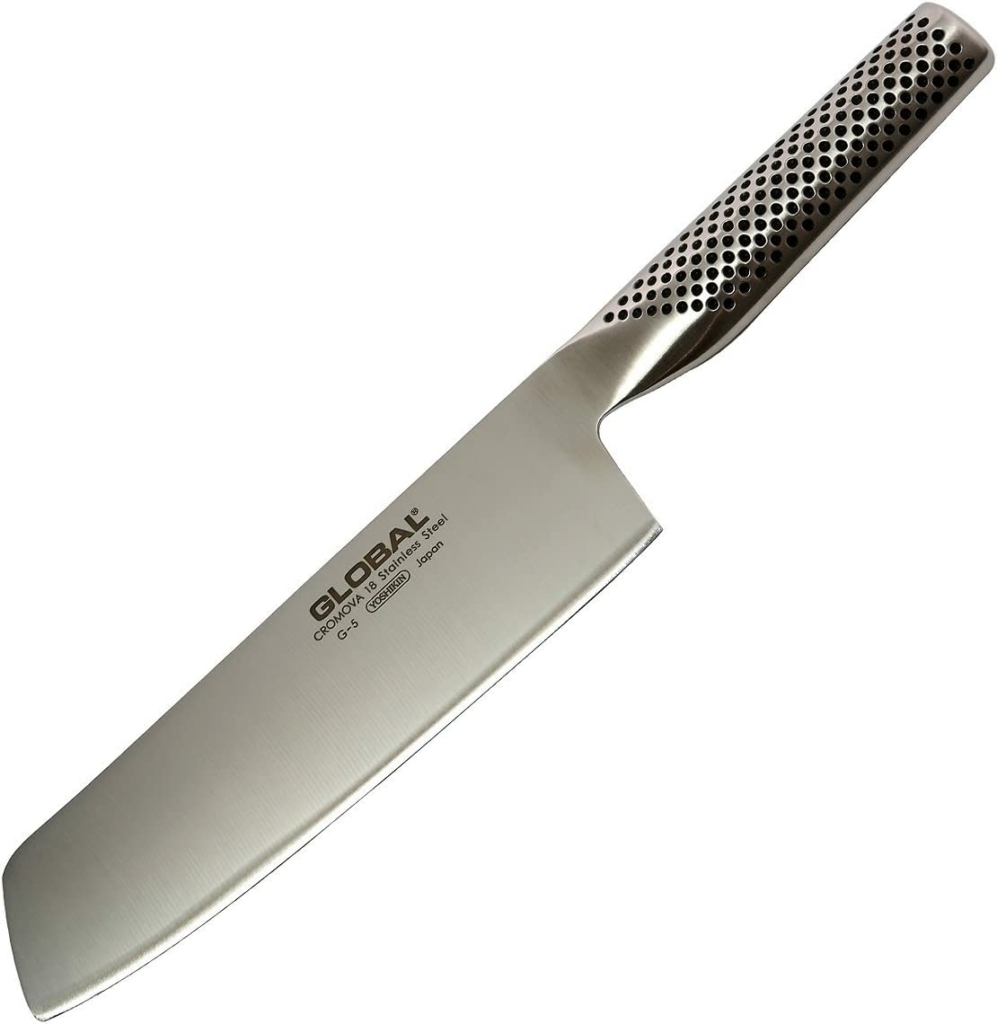 PROS:
Super sharp edge angle
Quality construction
Reputable brand/company
CONS:
Softer steel (may be good or bad depending on user)
Handle may feel weird
Heavy (272 g)
Global is a well known Japanese knife brand that sells in major retailers around the world. Their knives all use a propriety stainless steel called "CROMOVA 18". It is basically an MV (molybdenum vanadium) steel. It is a bit on the softer side compared to most other Japanese knives (HRC 56-58). This means it will require sharpening more frequently, but will also be less prone to chipping. If you treat your knives roughly, then it may a better choice.
Global knives are unique in that the handle and blade are all made from one piece of steel. The handle can feel a bit weird for some people. One upside is that this makes it easier to clean.
This Global nakiri is also quite heavy (272g / 9.6 oz). It is the heaviest of all the knives on the list. It will be more tiring to use, but useful if you want some more heft in your blade.
It currently retails for around $140.
Also available on: Amazon
Budget picks (under $100)
Spending over $100 on a vegetable knife is a lot of money. If you're on a tighter budget, or just want to try a nakiri for the first time, here are some great options for you:
PROS:
Awesome value
Good VG-10 Stainless Steel
Reputable brand
The DP series is Tojiro's most famous and popular line of knives. They are best known for being very high quality knives at a budget friendly price.
This professional level nakiri's triple layer stainless steel blade has a core VG-10 Stainless Steel, sandwiched between softer stainless outer. The VG-10 has a high hardness rating (HRC 60) which allows it take and retain a sharp edge. The softer outer layer makes sharpening and maintenance easier when needed.
Maybe one downside of the Tojiro DP Nakiri is that it is a bit heavy. It weights around 180g. Compare this to the premium Yoshihiro VG-10 Nakiri, which only weighs around 140g.
If you are just looking for a high quality, no-nonsense nakiri, then the Tojiro DP is a great choice. After all, it costs around $85 (at time of writing). Check out the current price below:
For a version with stainless steel handle, click here.

PROS:
Thin, super sharp blade
Very lightweight
Reputable brand
MAC is a popular Japanese knife brand known for their lightweight, super thin and sharp blades. Their blades are made with a rust-resistant Molybdenum Vanadium Steel with a hardness rating of HRC 57-61.
This nakiri is lightweight at just 5.8 ounces (164 g). It makes it very easy to handle. Those that like to have some extra "oomf" in their knife may find it too light. In any case, it is not meant for cutting harder veggies like squash, etc.
The handle is a basic pakkawood that is functional, but nothing to write home about.
The knife current retails for around $85.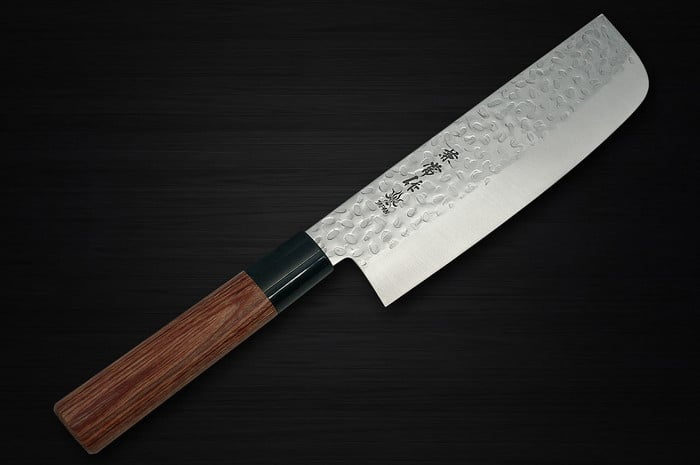 PROS:
Cheap price
Lightweight
Reputable brand
CONS:
Cheaper steel / handle bolster
Kanetsune is a long standing Japanese knife brand based out of the famous knife making town of Seki.
This particular nakiri knife is made with DSR-1K6 steel, which is a slightly lower end stainless steel that I have not seen used very often. It has decent hardness (HRC 58-59), and should be OK for most home users.
The knife is extremely lightweight (145g), which may be good or bad depending on your preferences. If you want a more hefty feeling knife, then this may not be a good choice.
The handle is a basic laminated wood, attached with a plastic bolster.
Some users have complained that it is not sharp enough out of the box. Although, this just gives you a chance to practice your sharpening skills. 😉
Overall, this a decent entry level nakiri that only costs around $50. If you're just looking to try out a nakiri for the first time, then this may be a good choice for you.
Other Nakiri Options
If you're not a fan of any of the above nakiri knives, there are plenty of other options for you to shop around. Here are a few places to consider:
Factors to consider before buying
When buying a nakiri, or any other knife type, here are a few factors you should consider:
Steel type: Do you want a stainless steel, or high-carbon? Most nakiri knives for home use are made with stainless steel as it is easier to maintain. High carbon steel types like Blue Steel have better cutting performance, but more difficult to sharpen/maintain.
Handle style: Japanese style or Western style? Traditional Japanese style handles are lighter, which makes it easier to maneuver and control the knife. Some people do not like the cylindrical shape, though. Western handles are typically grip shaped, with a heavier and sturdier feel.
Blade Size: Nakiri blade sizes commonly range from around 5 inches (127mm) – 7 inches (178mm). The most common size is 6.5 inch (165mm). There is not a huge difference, but it is still something to consider.
Brand / maker: I always recommend buying from a reputable Japanese brand or shop. This is especially true if you are buying online; it is hard to tell just from photos of the quality of knife you are getting. There are many low quality sellers out there on Amazon, Ebay, etc. Buying a reputable shop or brand gives you some peace of mind of the quality knife you will get.
Nakiri Knife FAQ
Here are some other questions or thoughts that people usually have about nakiri knives.
Nakiri vs Usuba: What's the difference?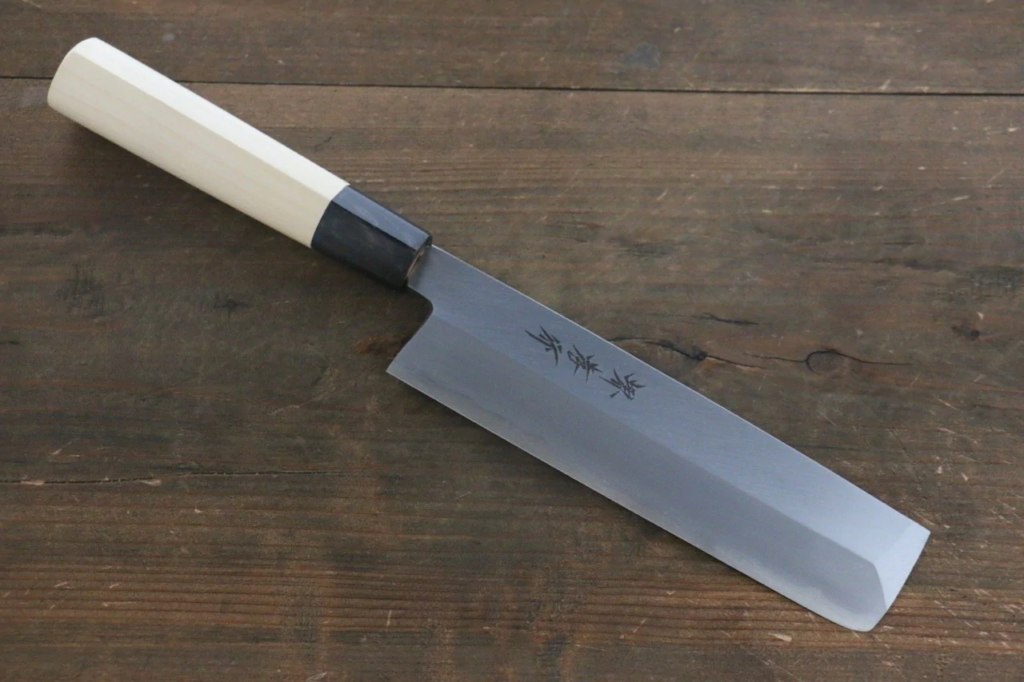 Usuba (薄刃) is a traditional Japanese vegetable knife. It is very similar to a nakiri, except that it features a single-bevel blade. Nakiri knives have double-bevel blades.
A thinner, sharper single bevel blade is designed to cut quicker, and more precisely compared to a double-bevel blades.
The downside is that single-bevel knives are more difficult to use/control, as the knife will steer to one side when cutting. For this reason, typically only professional chefs will use a knife like an usuba. It is often used for preparing traditional Japanese cuisine (i.e. washoku), and advanced cutting techniques like Katsura-muki.
The nakiri knife actually evolved from the usuba, as the double bevel blade is easier to use for general households.
Nakiri vs Santoku: What's the difference?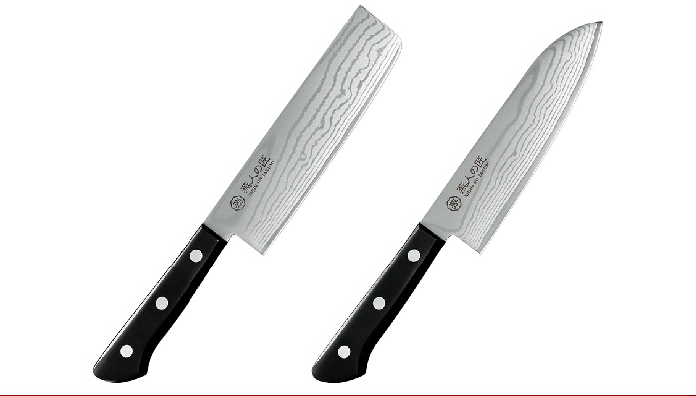 Santoku (三徳) is an all-around Japanese knife type that can be used for cutting vegetables, meat, or fish. A nakiri is typically only used for vegetables. It is not meant for cutting fish or meats.
Both nakiri and santoku are considered Western style Japanese knife types and have double-bevel blades.
A nakiri has a very rectangular blade profile and a flat/blunt tip. The almost completely flat blade edge makes it easier to chop cleanly chop through vegetables, as the entire edge will need to hit the cutting board. The slightly taller, uniform blade height also makes it easier to cut through larger ingredients like cabbage heads.
A santoku usually has a very slightly curved edge profile, and a pointed tip. The design is more versatile that a nakiri, as it can be used in a variety of cutting motions (push, pull, rock). The pointed tip allows the knife to better pierce ingredients like raw meats and fish.
The santoku technically evolved from nakiri, as Japanese diet shifted towards more meats, and households required a more suitable knife.
How to use a nakiri
A nakiri is used in a push-cut motion. It is difficult to use it in a rock-chop motion, as the blade usually has no curve. Here's a basic video and walkthrough of a push-cut:
Start with the front half of the blade touching the ingredient.
Push the knife down and forwards towards the cutting board. The entire edge of the nakiri should be touching the board when you finish a cut.
Lift the knife completely off the board, and repeat.
For a list of Japanese vegetable cutting techniques, check out this article.
Summary
If you want a knife specifically designed for quickly chopping vegetables, then a nakiri is great addition to your kitchen.
In this article, I highlighted 11 great nakiri knives that you can purchase online today. There is something for every budget and skill level.
I also covered the differences between similar Japanese knife types (usuba, santoku), and the basic way to use a nakiri.
I hope this was a helpful guide in helping you choose the best nakiri for yourself.
Let me know in the comments below:
What knife did you buy? What do you think of using a nakiri vs other knife types?
What to read next:
Need a good cutting board that will protect your knife's edge? Check out some cutting board recommendations here
Want a cheap all-purpose chef's knife? Look at the best gyuto knives under $100
Sashimi knife? Noodle knife? Learn more about all the different Japanese knife types