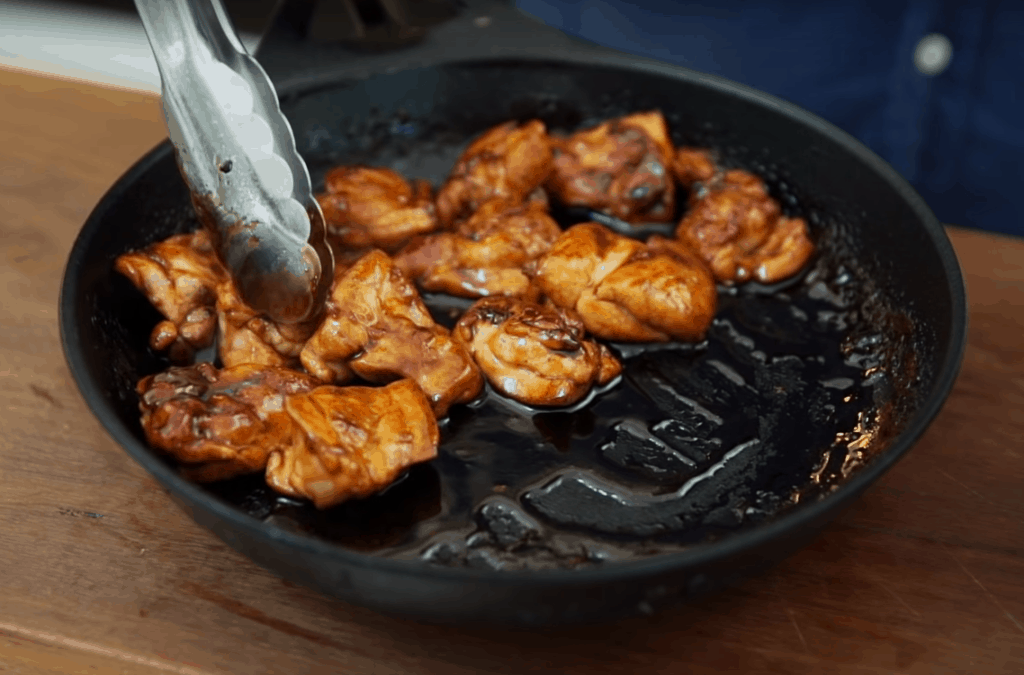 Teriyaki chicken (or chicken teriyaki?) is the gateway drug to Japanese food for many Westerners. While sushi, sashimi, takoyaki and other classic Japanese foods may seem a bit "weird" to foreigners, a chicken teriyaki stir fry is something that seems acceptable.
I had a friend who would never eat Japanese (or other foreign) foods. One day, he somehow ate some teriyaki chicken, and loved it. He then started trying other Japanese foods and discovered how awesome it all was.
And, what's not to like? The teriyaki flavor is instantly attractive to even the most picky eaters. It's a bit sweet, a bit salty, and full of umami.
It's also easy to make! There are 1000 variations of teriyaki dishes, but let's make the simplest one first — an easy chicken teriyaki stir fry.
Easy Chicken Teriyaki Stir Fry Recipe
This recipe builds upon the previous homemade teriyaki sauce recipe.  It is also based off of teriyaki chicken recipes via Adam Liaw and Kurashiru.
Ingredients listed are for 1 serving.
Ingredients needed
1 Chicken thigh (preferably boneless; with or without skin)
Teriyaki sauce – about 3 tablespoons (or 50mL)

(soy sauce, sake, mirin, sugar – 3:3:3:1 or 2:2:2:1 ratio)

cooking oil – a couple teaspoons is probably enough
Optional ingredients:
corn flour – just enough to dust chicken
freshly cooked rice or noodles
Equipment needed
frying pan
chopsticks or spatula or spoon (i.e. for cooking)
Quick instructions
Cut chicken into evenly sized chunks. Heat pan with oil on medium-high heat. Brown outside of chicken. Pour in teriyaki sauce. Continue cooking until sauce thickens and chicken is cooked through. Eat!
Detailed instructions
Step 1: Prepare chicken and sauce
First, let's prepare the chicken! Hopefully, you managed to get a boneless piece, otherwise you are going to have debone it yourself. You can remove the skin if you want, or leave it on if you like crispy chicken skin.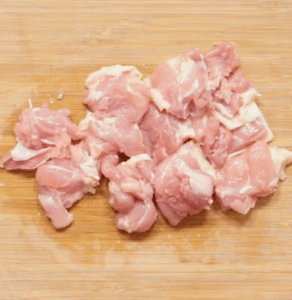 Cut the chicken into evenly sized chunks. Something around 4~5 cm squares (approximately 2 inches) should be small enough. The chicken will shrink a bit when cooked, so we don't want to make the pieces too small. Try to cut your chunks into similar sizes so that they all cook at around the same speed.
Prepare your teriyaki sauce mixture if you don't have any pre-made.  Simply mix your preferred ratio of soy sauce : sake : mirin : sugar (e.g. 3:3:3:1) into a small bowl.
Optional: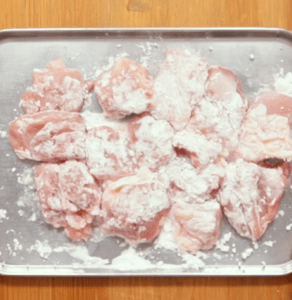 Lightly coat the chicken pieces lightly in some corn starch/flour. This will give the chicken a nicer golden brown crust when seared in the frying pan. If you don't have any corn flour on hand, don't worry about it.
Step 2: Heat and oil frying pan
Turn your stove onto medium-high heat, and heat up your frying pan with some oil. It is very important for your pan to be hot enough before adding the chicken in.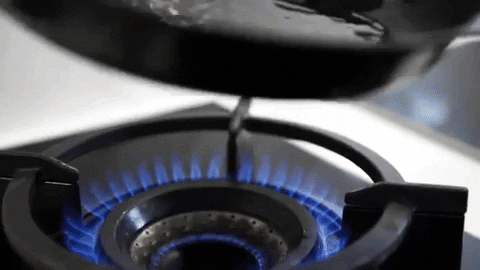 The oil should be just enough to cover the entire pan with a thin layer. If you are using a non-stick pan and chicken with skin on, you actually don't need to oil the pan, as there will be enough natural oil from the chicken skin.
Tip — If you are using a non-stick frying pan, put the oil on the pan before heating. If you are using a regular pan (i.e. stainless steel, cast iron, etc.), heat the pan up first before adding oil.
How to know when your frying pan is hot enough?
When the pan and oil is hot enough, the oil should be sort of shimmering and spread easily around the pan (like the image above). Check out this video for further description: https://www.youtube.com/watch?v=BMW74sHyljg . You can also stick the tip of a wooden chopstick in the oil to see if it bubbles. If bubbles quickly form around the chopstick, then it is probably hot enough.
Why do you need a hot pan?
It is important to heat the pan and oil before adding your chicken. It will prevent the chicken or other ingredients from sticking, and also help give you a nice sear on the outside. This is an essential cooking skill that you will use over and over.
Step 3: Sear the chicken
When the pan and oil are hot, throw in your chunks of chicken. The chicken should sizzle immediately if the oil is hot enough.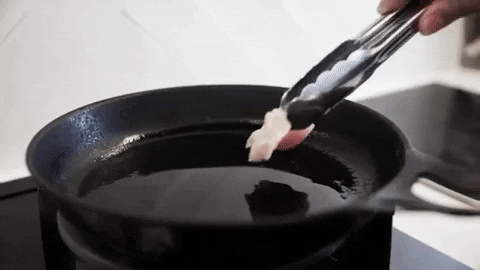 If you're using chicken with skin on, put the skin side down first.
Sear the chicken on each side just until outside has a nice golden brown colour. The chicken does not need to be cooked all the way through at this point, as we will continue to cook with sauce in the next step.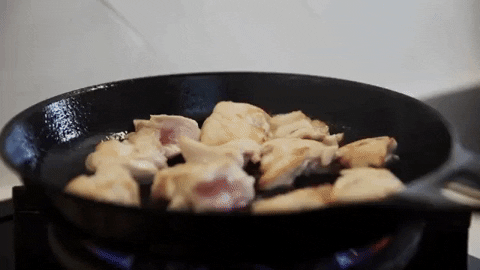 Step 4: Pour in the teriyaki sauce
When the outside of the chicken is a nice golden brown to your liking, pour in your homemade teriyaki sauce. You can put as much or as little sauce as you want. I think around 3 tablespoons (about 50mL) is more than enough for one to two servings of chicken.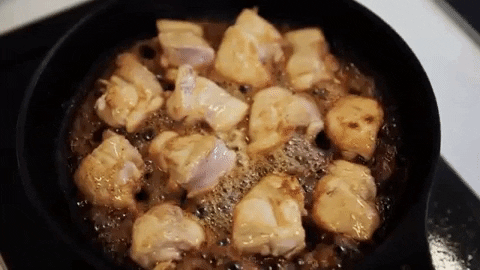 The sauce should start bubbling and foaming violently as soon as you pour it in.
Step 5: Cook until sauce is thickened
Continue to cook on medium to medium-high heat until the sauce has reduced and thickened. You will notice the bubbles will start to get bigger as the sauce reduces away. You can stir the pieces around occasionally to make sure they are all coated evenly. If you are confident enough, you can do some fancy tossing like this: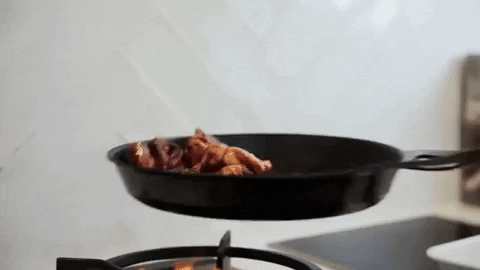 When the sauce is thick and sticking to the chicken, turn off the heat, and you're done!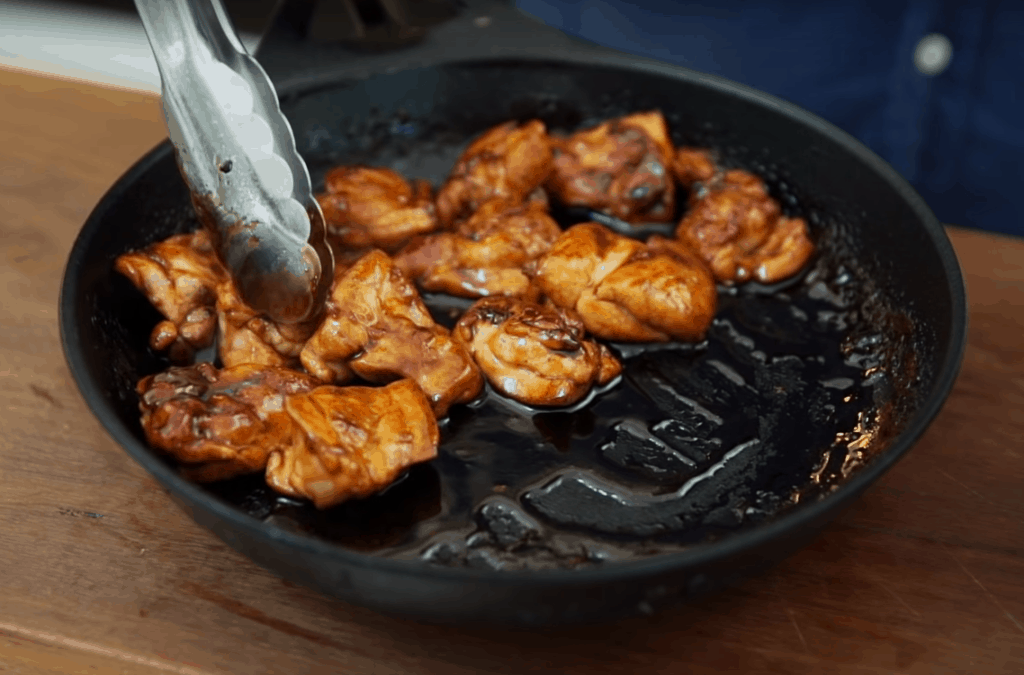 Step 6: Enjoy
Congratulations, you have successfully cooked authentic teriyaki chicken stir fry! Enjoy as a side dish, with a bowl of freshly cooked rice, or mix together with some noodles for a f*cking delicious meal!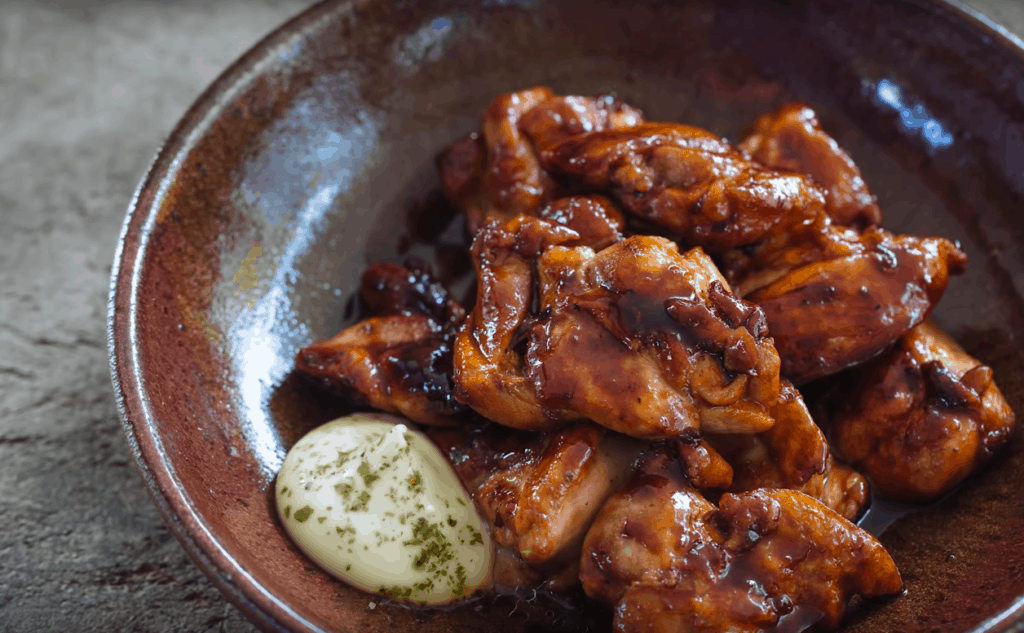 Recipe Notes
Tired of chicken? You can easily replace it with beef/pork/fish/tofu or whatever ingredients you want.
Want a healthy chicken teriyaki stir fry recipe? Try to make a healthier variation of teriyaki sauce — use low salt soy sauce (or tamari soy sauce), and honey or sweetener instead of regular sugar. You can also try to use chicken breast instead of chicken thigh as it has lower fat content. Also, make sure to remove any skin and excess fat from the chicken.
For even more healthiness, add vegetables to your stir fry. One popular example is chicken broccoli teriyaki stir fry. Just precook the broccoli before throwing it in with your chicken and sauce in Step 5.
Chicken teriyaki stir fry recipe with noodles? Just like vegetables, precook and drain the noodles before tossing it in with the chicken and sauce in Step 5. I like using udon. 🙂
The word teriyaki (照り焼き)actually refers to the glistening appearance of the dish, rather than the flavour. "Teri" 照り means shine / glow, and "yaki" やき means to grill. The shine comes from the sugar added in the sauce. If you use tamari soy sauce, it will be even shinier.
Conclusion
Awesome! Now, you can make your very own, authentic Japanese chicken teriyaki stir fry! All you need is chicken and your homemade teriyaki sauce. You can get creative and add other ingredients to your stir fry. Maybe beef + chicken + pork together? That would be crazy! 😬
For me, the most important learning step of this recipe is getting the pan and oil hot enough before adding the chicken (Step 2). I often get impatient with my cheap electric stove and add chicken before the pan is hot enough. This results in soggy chicken that does not have that nice sear on the outside. Still edible, but definitely not preferred.
What is your favourite teriyaki dish?
Check out some other easy Japanese recipes.