Whether you are moving out for college, setting up a new apartment, or just getting your old kitchen sets replaced; an initial knife set is an absolute must-have. Everyone who has stepped into the kitchen knows that one knife is merely not enough for all the different things you use in the kitchen.
You need a sharp one, a blunt one, something for chopping meat, another for chopping vegetables, a different one for boning entire chicken, pork or lamb, another one for bread and bakery items and cutting small fruits as kiwi would not utilize a butcher knife.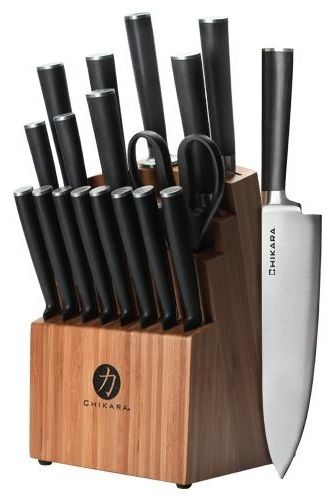 About The Product
If you are considering buying a knife set for your kitchen, consider investing in the Ginsu Gourmet Chikara Knife Set. The set comes with the following key features that might grab your attention:
check
check
check
check
check
check
The Ginsu Gourmet Chikara Stainless Steel Knife Set effectively combines quality with quantity, adding additional features of durability, style, and excellent customer satisfaction to go along as well.
Features
Moreover, these knives have a reputable company backing them up. Ginsu Gourmet Knife Set offers a wide range of outstanding characteristics that leave customers satisfied to the maximum. Some of these characteristics are:
The Full Package: Set Of Nineteen Knives And A Wood Block Made Of Walnut
The Ginsu Gourmet Chikara Set has Nineteen knives in its sets for professional usage, offering a lot of versatility in just one buy. Set in a classy bamboo finish block, the blades for chopping, slicing and dicing meat and vegetables in the collection include the following: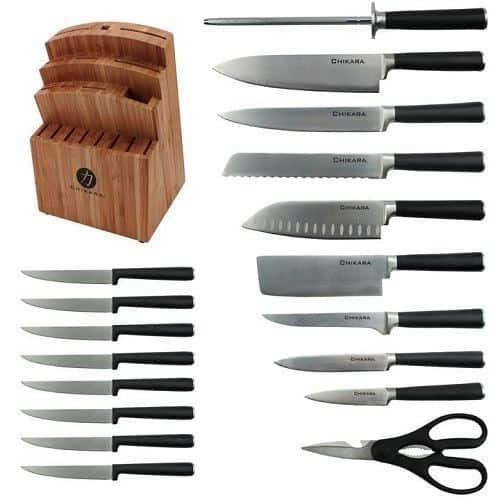 Carefully Constructed For Maximum Durability
The Ginsu Gourmet Knife Set is stainless steel, and hand-polished with careful precision to increase the durability of the blades. This is a cutlery set comprising 420J Stainless Steel.
Additionally, these knives are forged as one piece of premium Japanese Stainless Steel from tip to tang. However, the steak Knives are stamped, not forged.
All of these features combined to ensure that these knife sets last you for a lifetime. You won't be buying another set of knives for a long time, and that sort of durability is worth every penny.
Designed To Maximize Utility With Low Maintenance
The Ginsu Gourmet Knife Set is exquisitely designed, carefully constructed with utmost precision for cutlery activities and food preparation. Offering several variations of blades, food preparation of all sorts is right in your hands. No matter if you have to prepare think slices, or chop up vegetables, bone meat or make professional-quality dishes, just this set will do.
Furthermore, the shape of all the handles offers supreme gripping comfort and ease of maneuvering Adding to its flexibility is the fact that it is low-maintenance, easy to clean and often requires little to no sharpening. The blades are very sharp, durable, flexible and versatile, offering immense utility.
What Others ​Are Saying
Users are entirely in love with these knives for all sorts of reasons. Some of them like the ease with which they can be used, enabling convenient cutting and slicing. The casing and finish is beautiful, and you can gift it to a loved one for their housewarming, or anniversary as they come.
What's more is that the instruments are sharp as well as versatile. With just one buy, users can get a complete set of blades for all sort of cutlery uses, be it bread, vegetables or meat. Additionally, they offer professional precision, the maximum durability with the least muscular strain.
By far, what users love the most is confidence these knives give them with a full single piece of stainless steel. They enjoy more control over their tasks and the results are brilliant with a minimum amount of effort.
Buying Advice
You can get your hands on the Ginsu Gourmet Chikara Knife Set in about $163.65 from Amazon with. The manufacturer also offers a complete money back guarantee in case the customer is not a hundred percent satisfied.
Two of the most critical factors to look for in a knife set is the longevity and utility. It has to offer a diverse range of uses, and be flexible enough to be used on different objects by employing many techniques. Additionally, they have to last for a  long time, so that they do not break and that you don't have to replace them every couple of months.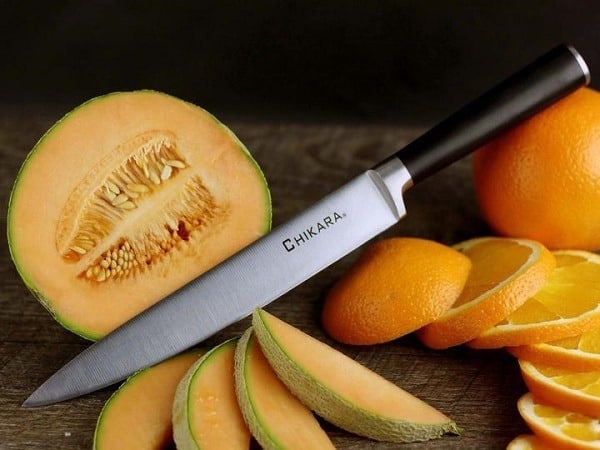 The Ginsu Chikara Knife Set offers both the qualities very effortlessly, something that is rare in similar products. No matter what use you put it to, this product will last you a lifetime.
Final Verdict
With its flexibility and ergonomics, this product is a must-have. At a budget-friendly price and a broad set of features and accessories, there is nothing more you could ask for in a set of knives, and we recommend buying it. Also, it's pretty clear that the Ginsu Gourmet Chikara Knife Set offers a lot more than competing products offer you with warranties.