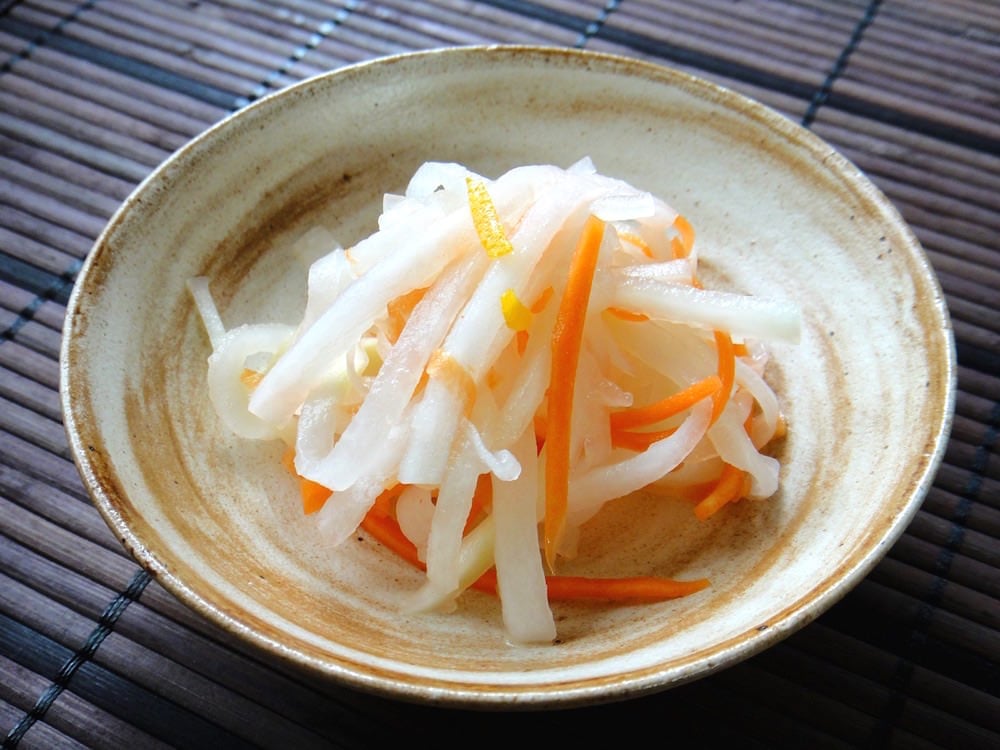 "Red & white namasu" (紅白なます) is a simple side dish made with carrots (i.e. red) and daikon radish (i.e. white).
It is tasty, refreshing, healthy, and perfect for hot summer days.
Best of all, it is super easy to make!
Here's how:
Namasu Recipe
This recipe was adapted from 百合プ on Cookpad and Sirogohan.
Quick overview
Slice carrots and daikon. Mix with salt, and wait for water to drain. Mix with vinegar sauce. Chill. Enjoy.
Full recipe
Namasu Recipe: Japanese Daikon Carrot Salad (紅白なます)
Course: Appetizers, Sides
Cuisine: Japanese
Difficulty: Easy
This simple, classic daikon/carrot namasu recipe is perfect for hot summer days.
Equipment & Ingredients
Equipment

Knife and cutting board

Large mixing bowl

Chopsticks (or something to mix with)

Ingredients

Daikon (Japanese white radish) … 1/4 piece (about 300g)

Carrot … 1/3 piece (about 50g)

Salt … 1 tsp

Sugar … 2 tbsp

Rice Vinegar … 3 tbsp (approx 45ml)

Sesame seeds for garnish (optional)
Directions
Slice daikon and carrots into thin matchsticks and put into a bowl. Use the sen-giri / julienne cutting technique.
Sprinkle salt over daikon/carrots and mix together. Let sit for around 10 minutes for water to come out of from vegetables.
Drain water from bowl. Use your hands to squeeze out excess liquid from daikon and radish.
Mix together vinegar and sugar and add it to vegetables. Mix well.
Chill in fridge for 10-20 minutes. Garnish with sesame seeds. Enjoy!
Notes
Add some red chili peppers for an extra spicy kick
Add lemon juice or yuzu for some citrusy flavors
Namasu Recipe FAQ
How long is namasu good for?
You can keep namasu in the fridge for 7-10 days.
What is the difference between namasu and sunomono?
Sunomono (酢の物) is a general term for Japanese vinegar / pickled dishes. The word is a combination of "su" which means vinegar, and "mono" which mean things (in this case — food).
Namasu is simply a type of sunomono.
What are the health benefits of namasu?
The main health benefits of namasu come from the use of rice vinegar. Rice vinegar is considered a good antioxidant, helps control blood sugar levels, and lowers cholesterol.
It is also a source of Potassium, Magnesium, Calcium and Phosphorus (source: WebMD)
For this particular namasu recipe, both carrots and daikon are also highly nutritious ingredients. Check out Healthline for more health info.
The only health downside of namasu is the use of sugar. You may want to reduce the sugar amount, or replace it with another healthier sweetener.
What is the history of namasu?
Namasu is thought to have originated from China (written: 膾). The dish was originally made with raw meat and fish.
In Japan, vinegar was not actually used in the original namasu. Over time, the meat and fish also changed to become just vegetables.
These days, namasu usually just refers to vegetable dishes. It is most popular to eat as a New Year's dish.
(Source)
Summary
What do you think of this namasu recipe? Any suggestions for other chefs out there?
Let me know your thoughts in the comments below!