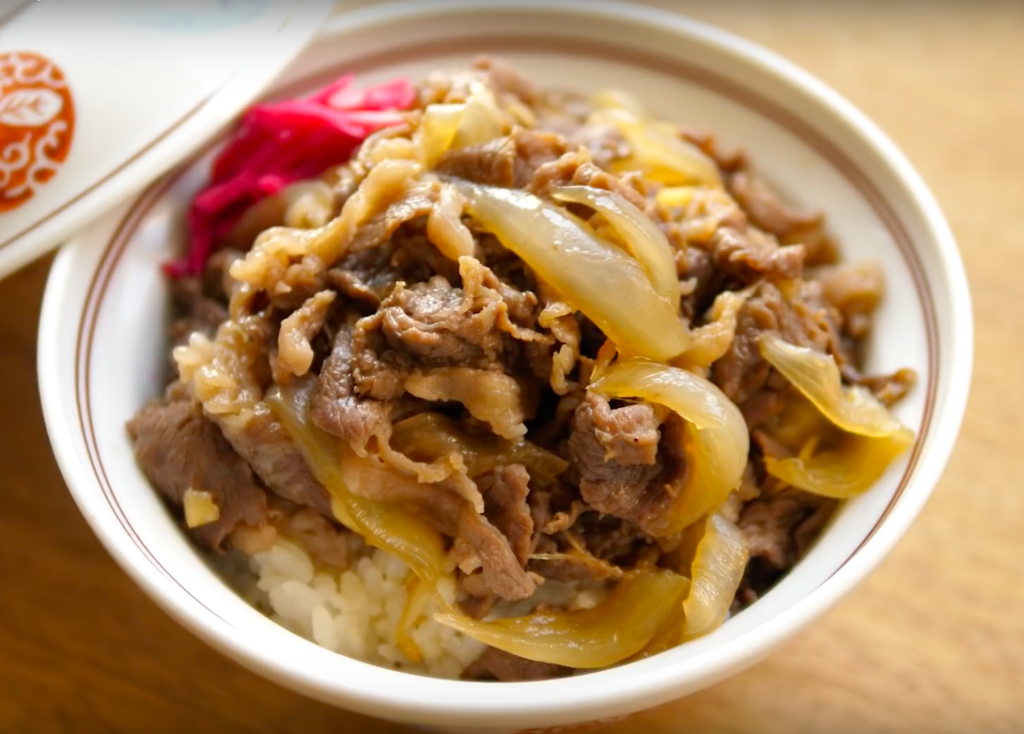 Gyudon (牛丼)means beef rice bowl in Japanese.
It is a combination of the words gyuu-niku(牛肉, i.e. beef) and donburi(丼, i.e. bowl of rice topped with food).
It is the most popular type of donburi in Japan. Gyudon is so popular that there are huge, nation-wide fast food chains built around the dish. The biggest gyudon chains are Yoshinoya, Sukiya, and Matsuya.
Not near any beef bowl chain restaurant? No worries, it's super easy to make. Here's how:
Super Easy Gyudon Recipe
This is my go-to gyudon recipe (adapted/modified from sirogohan)
This recipe is probably good enough for 3-4 people. Or, one super hungry person.
Gyudon Recipe (牛丼)
Course: Main
Cuisine: Japanese
Difficulty: Easy
Easy, authentic Japanese gyudon recipe (adapted from sirogohan.com)
Ingredients & Equipment
Equipment

a pot

a knife and cutting board

chopsticks

a big spoon or ladel

a small spoon (to peel ginger)

Main Ingredients

Thinly sliced beef … 350g

Onion … 1/2

Ginger … approx 10g (about size of your thumb)

Cooked rice … enough for 4 people

Sauce ingredients

Water … 250ml

Sugar … 2 tbsp (approx 25g)

Soy sauce (dark shoyu) … 4tbsp (60ml)

Sake … 50ml

Mirin … 50ml
Directions
Chop up ingredients.
Roughly chop up the onions (approx 1cm width).
Peel the ginger, and slice finely as you can (i.e. julienne / hoso-giri technique).
If you bought unsliced beef, then you'll have to slice it as thin as you can.
Dump all the sauce ingredients, sliced onion and ginger into a pot. Bring to a boil over medium heat and mix around a bit.
When your mixture boils, dump in the sliced beef. Break apart the beef with your chopsticks so that it's spread out evenly around the pot.
Reduce the heat to a medium-low simmer.
If you notice that dirty looking scum/foam floating on top, scoop it out with your ladle.

Continue simmering for 20 minutes.
After 20 minutes, the broth should have reduced significantly and thickened a bit.
Taste, and adjust flavor to your liking.

Serve on top of freshly cooked rice. Enjoy!

Notes
Adapt the sugar and soy sauce ratio to your own taste. If you like saltier, reduce the sugar amount. If you want sweeter, reduce the amount of soy sauce.
If you don't like beef, you can also use pork, chicken, or any other meat/protein you want. Pork bowl is called buta-don (豚丼) in Japanese, and is also very popular.
Top with red pickled ginger (beni-shoga 紅しょうが), and spice (e.g. togarashi ) for some extra kick.
Top with an onsen egg for a luxurious finish 😎
Use dashi instead of plain water for even more flavor.
Summary
Gyudon is one of my go-to foods in Japan. Especially when I can't decide what to eat, or am feeling broke (or both). It's cheap, delicious, and filling.
With this easy recipe, you can now enjoy gyudon anytime you want, even if you're not in Japan, or far away from a Yoshinoya.